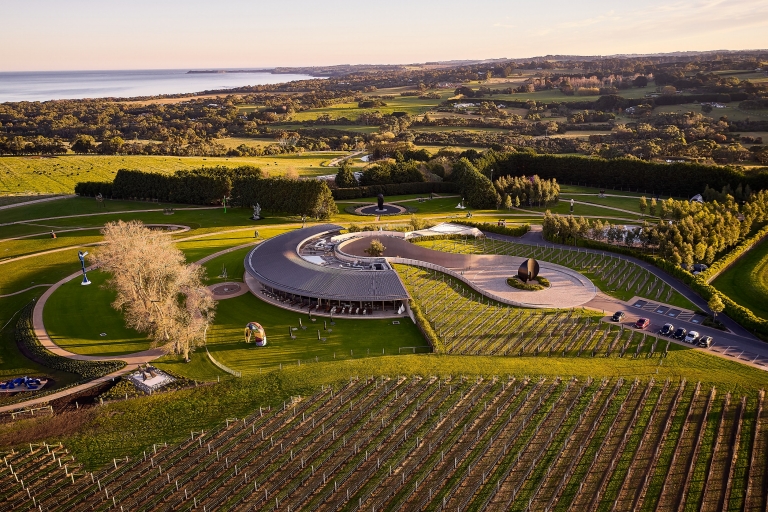 The art of regional excellence in Australia
Pt Leo Estate is one of several impressive recent additions to Victoria's Mornington Peninsula, combining award-winning regional dining, wineries and eye-catching art.
When you wander through the sculpture park at Pt Leo Estate or take a seat in the striking building that houses its cellar door and dining rooms, you'll enjoy a panoramic view of what makes the Mornington Peninsula a standout destination – a renowned wine region in a spectacular coastal setting just an hour from Melbourne, dotted with cellar doors and a food scene ranging from fine dining to fish and chips.
Since opening in 2017, Pt Leo Estate has gained recognition as one of the region's leading experiences for Australian and overseas visitors alike. When the Gandel family decided to open their private 330-acre (133 hectare) estate with sweeping views over Western Port Bay to the public, they did so in style – creating a stunning modern building to house the cellar door and two critically acclaimed restaurants. The Gandels also expanded their sculpture collection into the largest privately owned sculpture park in the Southern Hemisphere, with around 70 pieces that make it a worthy addition to the international 'Vine Art Movement'.
And during 2020, despite undergoing two closures due to coronavirus, Pt Leo Estate elevated its fine dining experience and created an additional dining space ideal for groups by renovating both ends of the property – the jewel of its culinary offering, the 46-seat Laura, which sits at number seven of the top ten restaurants in Australia, according to Gourmet Traveller Magazine, and the Wine Terrace, which has capacity to seat up to 90 people at the foot of Pt Leo's 50-acre vineyard.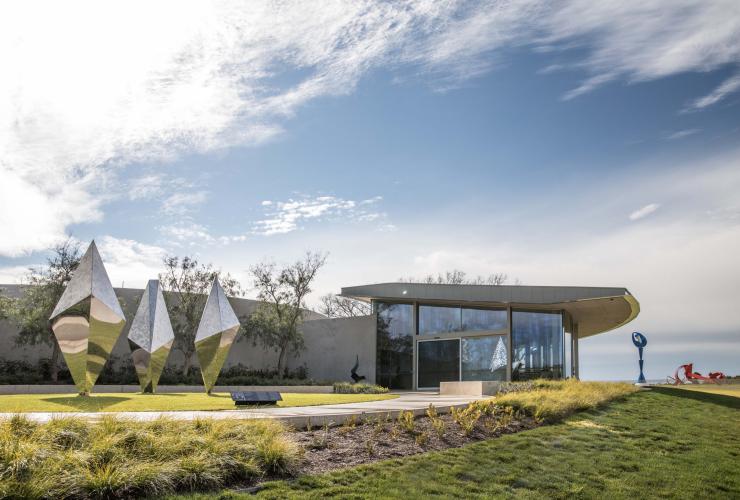 "Our focus always in Laura when we opened it, was the Mornington Peninsula," says Pt Leo Estate's General Manager Roger Lancia.
"Phil [Wood, Pt Leo's esteemed Culinary Director] has a real connection with local farmers, local producers and over the three years, he's really harnessed that relationship and collaboration with them.
"What we've found though is focusing purely on the Mornington Peninsula across the whole gamut of the menu in Laura restricts that offering sometimes."
While Mornington Peninsula produce still features in each dish, Lancia explains that the kitchen is now "sourcing ingredients from across Australia – the very best that we can find at any one time. It's a significant change as far as the offering out of Laura".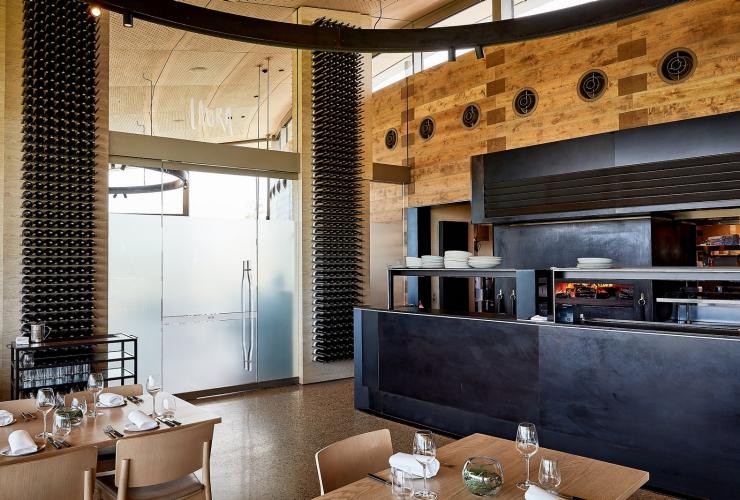 Laura's dining room has undergone a physical transformation too, to make the space flow better, and the glass wall between Laura and the property's next door dining space, the one-hatted Pt Leo Restaurant, has been frosted to create greater separation between the two offerings.
"One of our ambitions is to deliver a very unhurried dining experience. Not slow or drawn out, just to give people the luxury of time, whilst they're dining with us and [that] frosting has separated them from the busy-ness and the hype of the room next door," says Lancia.
Many of the touchpoints within the space have also been renewed or upgraded – with leather-topped tables now clothed, and everything from bespoke crafted cutlery and crockery to organic waiters' uniforms added to the offering.
"If we're talking about iconic international brands, then Laura is the space for an exclusive hire," says Lancia, "being only a 46-seater, it doesn't need to be a large event for it to use the space.
Where it sits, how it's positioned both geographically and then also with its output, it is a very unique dining experience. I'd say it'd be close to one of the most unique dining experiences in Australia right now.
At the other end of the property is the other newly renovated space, the Wine Terrace, which Lancia calls a "gamechanger" for Pt Leo's business events offering.
"It gives us this great flexibility to be a little more competitive with our prices and be a little bit more nimble with the size of event we can host, midweek in particular."
The estate's vineyard is planted to produce pinot noir, chardonnay, pinot gris and shiraz. Like the sculpture collection, its wines were once the preserve of the Gandel family and are now another of the elements that makes Pt Leo Estate a venue offering a world-class experience for groups.
"At this stage, we are still navigating through what is possible with regards to large scale events and experiences at Pt. Leo Estate," says Lancia, "and we continue to look forward to working with event organisers in developing bespoke experiences."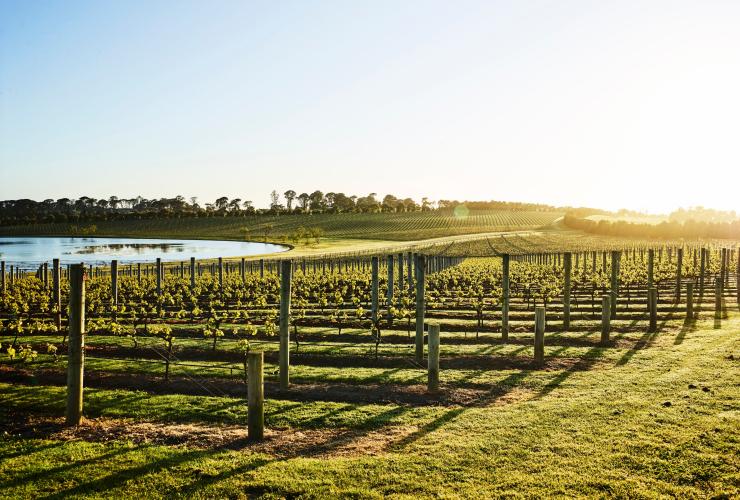 In full flight, the property can accommodate groups of up to 600 guests at any one time and can host up to 220 seated guests for lunch or dinner.
Experiences include walking tours and wine tastings within the vineyard itself, before dining in one of Pt Leo's award-wining restaurants.
Good to know
Continue your contemporary art immersion in the region with a stay at the luxe contemporary hotel Jackalope.
Getting there
Pt Leo Estate is just over an hour's drive from the Melbourne city centre. Scenic helicopter transfers to nearby Tyabb Airport are also possible.
Get in touch
Phone: +613 5989 9011
Published: 22 January 2021