THE TINY BRAIN DEVICE THAT COULD CHANGE LIVES
Associate Professor Nicholas Opie, an Australian biomedical engineer, has co-developed the world's first non-invasive brain device that translates thoughts into movement, helping to transform the lives of people with severe paralysis and other conditions.
The number of people with debilitating conditions such as motor neurone disease and spinal cord injury is growing, and there's no cure. Over the past decade, researchers around the world have discovered it's possible to record information from the brain and use it to control assisted technology – essentially, to control a computer with your mind. But this technology hasn't yet been used safely and effectively outside of the lab.
Now, thanks to the work of Associate Professor Nicholas Opie at the University of Melbourne and his cross-disciplinary research colleagues, that's set to change. Opie designed and engineered the ground-breaking Stentrode – a self-expanding paperclip-sized device that's implanted in a blood vessel in the brain, and records the brain activity that moves limbs. That information is then wirelessly sent to a computer to control external equipment such as a computer or exoskeleton.
THIS ALLOWS PEOPLE WITH PARALYSIS TO DO THINGS LIKE SEND EMAILS AND TEXT MESSAGES, AND DO ONLINE BANKING AND SHOPPING JUST BY USING THEIR THOUGHTS. 
And unlike similar devices, which require invasive open-brain surgery, the Stentrode is implanted via a small incision in the neck to access blood vessels.
Opie – who is also co-head of Melbourne University's Vascular Bionics Laboratory – began developing this life-changing technology in 2012 alongside neurologist and Associate Professor Tom Oxley. They work from the Melbourne Biomedical Precinct, a world-leading precinct with more than 40 research institutes, education providers, hospitals and biotechnology organisations.
"Having experts in all of these different fields is extremely valuable," says Opie. "Particularly for technology like this, you do need expertise in a wide range of areas, and Australia is certainly the best place to get that."
BRINGING A GROUND-BREAKING IDEA TO LIFE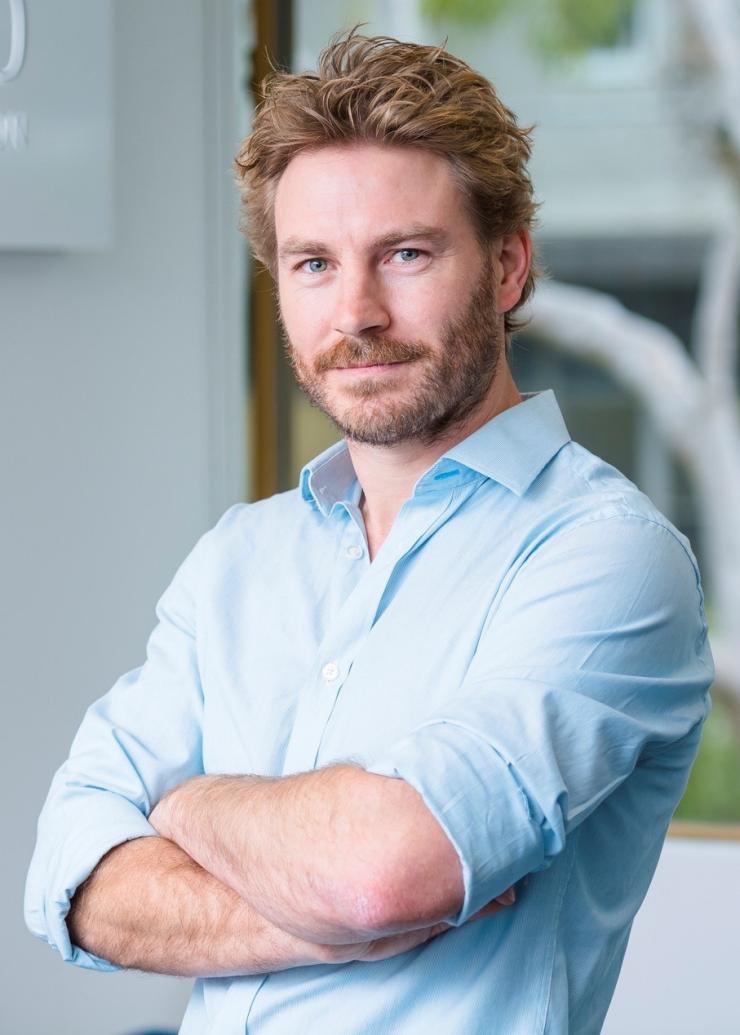 Opie started in 2012 by crafting prototypes of the Stentrode entirely by hand. It took three years of failures and redesigns before he created a device that was ready to be produced to clinical specifications.

"One of the challenges we faced was, how do you make a device that can be delivered through a 1-mm diameter catheter and then expand to be 6–8 mm in diameter and conform to the curvature and irregularities of the blood vessel?" he says.
Opie and his colleagues also had to develop software that could interpret the information sent from the brain and translate it into a command or movement. In 2016, Opie and Oxley founded Synchron Australia to translate the technology into clinical applications.
Clinical trials to test the safety of Stentrode are now underway. The device was implanted into the first trial participant in August 2019, and that participant, who has motor neurone disease, is now using the technology at home to control a computer – and it's greatly improved his quality of life. In 2020, two more people had a Stentrode implanted.
"We've heard from participants that they have a real sense of independence now," says Opie. "For one of the participants, equally as amazing as what he's been able to achieve was his wife saying that she now has more freedom and independence. We've connected him up to a phone so if he does need her, he can send her a text, and this has allowed her to go out and do gardening or go to the shops."
More trials are planned throughout Australia, and Opie and his team recently submitted an application to the US Food and Drug Administration to conduct trials in the US.
UNLEASHING NEW POSSIBILITIES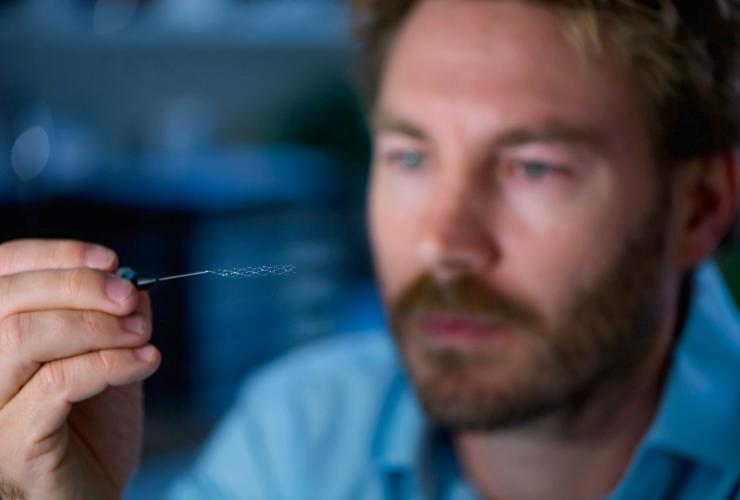 The Stentrode is a major breakthrough in modern medicine and it has received a raft of awards, as well as a public endorsement from former US President Barack Obama, who said it "has the potential to transform lives".

Looking ahead, the possibilities are almost endless, including the potential to use it to control a wheelchair or prosthetic limb. And that's only half the story – as well as sending information out of the brain, the device can also send electrical charge into it, which could suppress epileptic seizures and Parkinson's tremors.
"In terms of function, we're just starting to learn what this might do," says Opie.
As with most medical breakthroughs, collaboration and support have been critical to the success of the Stentrode.
"Both the Victorian and Australian governments have been absolutely amazing in assisting and funding this research," says Opie. "Through grants and other funding opportunities, they've really been able to kickstart the project and allow it to get to where it is."
Opie says this kind of government support for innovation is one of the factors that makes Australia an ideal place for cutting-edge research, as well as academic and industry conferences and other events.
"For the population we have in Australia, we're certainly doing a lot better than we should," he says. "We're coming up with amazing ideas and amazing ways of doing things across many disciplines. I think a lot of academics and other professionals want to come here to see our facilities, how we're doing this and why we're so good.
"We're a lucky country, we're certainly a lucky research group. And without that support we've had from the Australian Government and the trial participants, this technology wouldn't have happened."