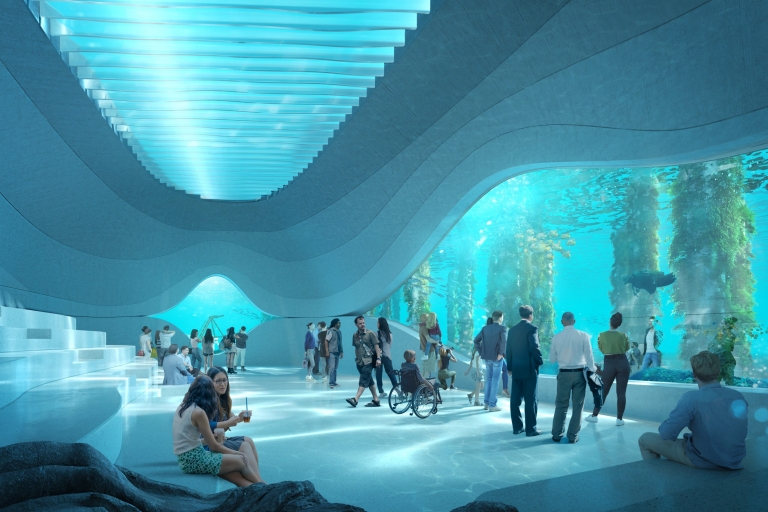 Australia has a raft of sensational new products in the pipeline, which are set to make their debut in 2022.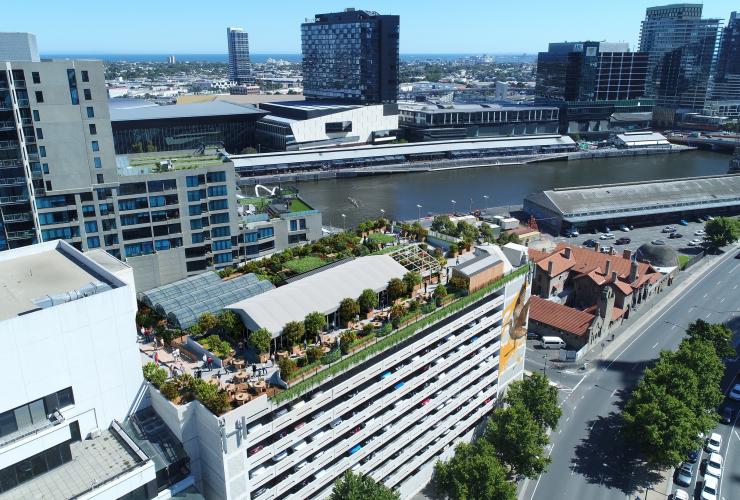 2022 will see Melbourne's city centre become home to a thriving urban farm, thanks to the transformation of a 2,000 sqm (21,527 sq. ft) rooftop carpark. With the capacity to produce over five tonnes of fresh produce per year, much of which will be donated to food charity OzHarvest, Melbourne Skyfarm highlights the global trend to create food security and climate adapted cities. When completed in mid-2022, Skyfarm – which directly overlooks the Yarra River to the Melbourne Convention and Exhibition Centre (MCEC) – will feature a sustainable cafe, education programs, conference facilities and event spaces. The venue will be available for exclusive hire and guests will be able to tour the working farm, visit and sample from the rooftop orchard and herb gardens, or enjoy an event in one of the three unique spaces on offer.
The Dorsett Hotel at The Star, Gold Coast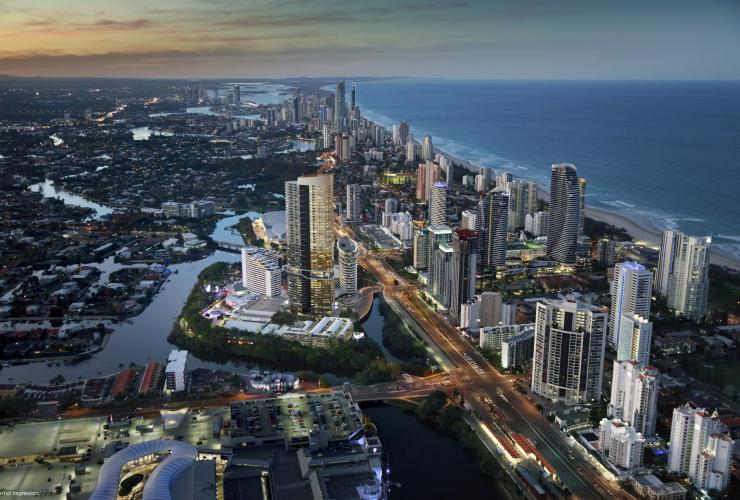 The Gold Coast continues to deliver new offerings for business events groups, with several large hotel developments in the pipeline for 2022. Adding another string to The Star Gold Coast's bow is the A$400-million-dollar Dorsett Gold Coast, which features 313 elegant new rooms with breathtaking views across the coastline and lush greenery of the hinterland. Located in the vibrant heart of Broadbeach, the five-star hotel is adjacent to the Gold Coast Convention and Exhibition Centre and is only a short walk to the beach, dining precincts, shopping centres and entertainment venues. Dorsett offers direct connectivity to The Star Gold Coast, which boasts impressive convention, exhibition and event spaces for up to 2,300 people, as well as a collection of award-winning restaurants, lively bars and entertainment options.
Sydney Modern Project, Art Gallery of New South Wales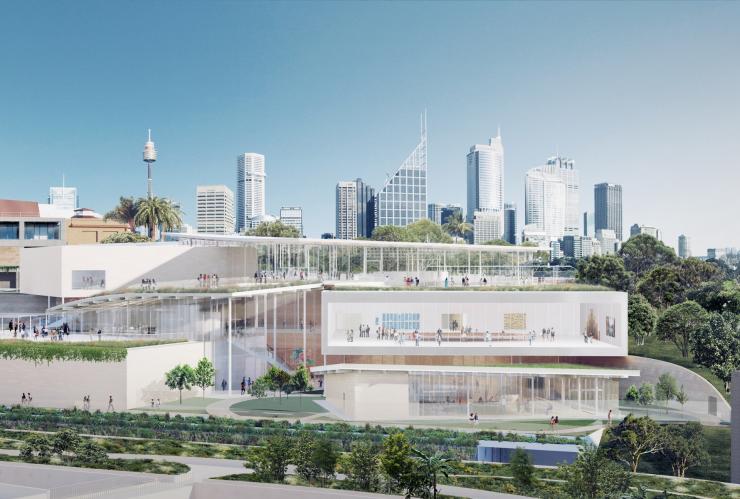 2022 is set to be a big year for the Art Gallery of New South Wales in Sydney with the scheduled completion of its stunning new building designed by Pritzker Prize-winning architects SANAA. The Art Gallery's transformation – the Sydney Modern Project – will create an exciting new art museum experience across two buildings connected by a public art garden. Designed to complement the Art Gallery's existing neo-classical building, the new building will almost double exhibition space and feature dynamic galleries, works by leading Australian and international artists, and extensive outdoor spaces. Several flexible spaces with harbour and garden views will be available for exclusive event hire in the new building from early 2023, with a total cocktail capacity of up to 1,000 guests. The Art Gallery will be able to host catered events as well as private exhibition viewings and guided tours.
The Australian Underwater Discovery Centre at Busselton Jetty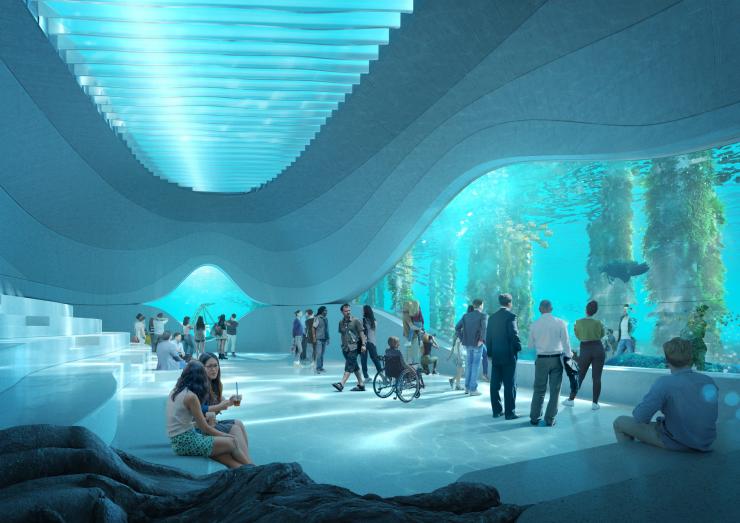 In Western Australia, 2022 will see the longest timber-piled jetty in the Southern Hemisphere also take the title of the world's largest natural aquarium. Located at the northern end of the Margaret River wine region, Busselton Jetty is undergoing an A$32m development that includes the new Australian Underwater Discovery Centre, which will, on completion, be the world's largest natural aquarium with the world's largest underwater window. The current underwater observatory at the end of the jetty will be transformed into a marine research centre and laboratory to educate guests about oceanic climate change. The new Discovery Centre will have the capacity for underwater dining and will accommodate up to 200 guests for private events. For now, the existing underwater observatory can host up to 44 guests at one time for private tours, and groups of up to 90 guests can enjoy sunset drinks and dinner in a marquee at the end of the jetty, overlooking the water.
Cairns Convention Centre expansion project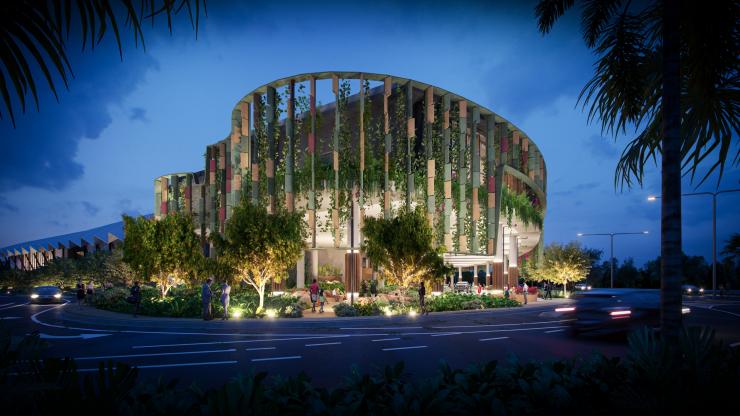 In 2021 the Cairns Convention Centre underwent a major refurbishment, which saw the Centre refreshed with a new contemporary interior and equipped with state-of-the-art technology, as well as a revamped registration area ready to welcome delegates back to the Centre. An expansion is also underway and is due for completion in late 2022. This project will see 10,000 sqm (107,639 sq ft) of event space added to the venue, including a new 450-seat plenary that can be split in two, plus exhibition space and three large meeting rooms. The unique element of the expansion is the Trinity level, which will feature a banquet room for up to 500 guests, pre-function space and a beautiful outdoor terrace, all with views to Trinity Inlet.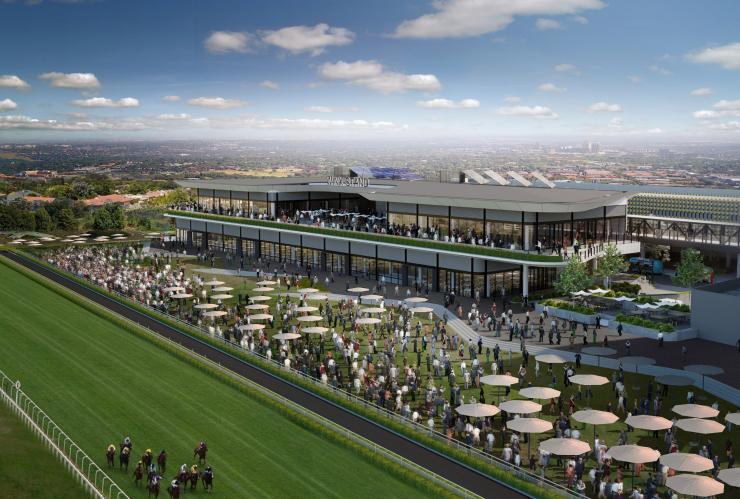 Taking its name from a legendary racehorse, the Winx Stand is Sydney's newest large-scale venue located at Royal Randwick Racecourse, a 10-minute drive from the city centre. With a total floor space of 5,043 sqm (54,282 sq. ft), The Winx boasts a wide choice of flexible function spaces over two levels that open to the outdoors and an open-air rooftop space. The ground floor offers up to two individual spaces, with a capacity for 3,000 standing, while on Level 1 an open-air terrace sits between two function spaces, each with a capacity of 500 standing. The entire venue can be booked exclusively for 4,000 guests standing and there is an option to connect to the Queen Elizabeth ll stand for a full venue takeover. With state-of-the-art technology and connectivity to 80 screens, this venue is perfect for a spectacular gala event.
Reef Magic Pontoon, Great Barrier Reef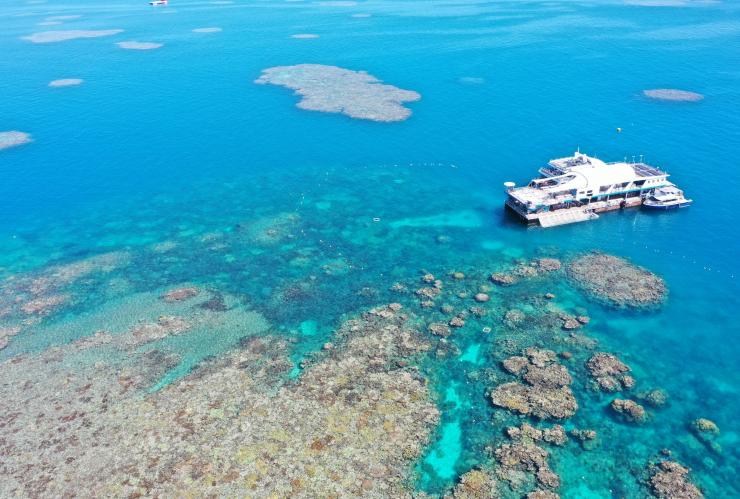 Queensland's Great Barrier Reef will see the addition of a brand-new pontoon in 2022, the first in over a decade for the Cairns region. Adventure tourism company Experience Co is behind the new Reef Magic pontoon based at Moore Reef, a large horseshoe-shaped reef system 45 kilometres (28 miles) offshore from Cairns. The new floating platform will focus on reducing the impact on the environment with wind, solar and, where possible, electricity generation to power the pontoon and smaller support vessels. As with Experience Co's Dreamtime Dive and Snorkel product, Reef Magic will weave a narrative of Indigenous storytelling and incorporate a cultural element with Indigenous guides, as well as having a fully functioning reef research laboratory on board. With the capacity to be exclusively booked for up to 250 guests at one time and VIP helicopter transfers available, Reef Magic is set to be an innovative addition to Cairns' business events offering.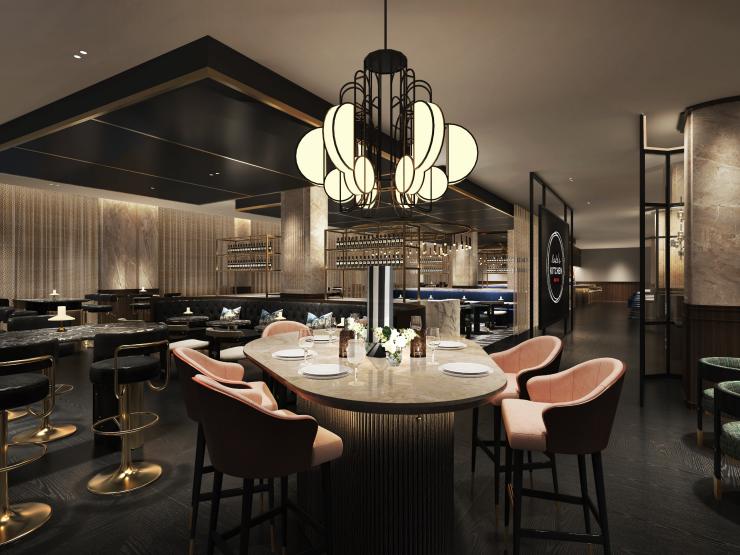 Set to open in February 2022, Kimpton Margot Sydney is IHG Hotels & Resorts' Australian debut of their luxury Kimpton Hotels brand. One of the pioneering labels behind the boutique lifestyle hotel concept, Kimpton hangs its hat on a commitment to creating genuine human connections through heartfelt service and thoughtful perks and amenities. Its key brand philosophies include forward-thinking design, celebrating meetings and events, and bringing guests together through activities such as yoga lessons, art and wine appreciation programs and nightly 'Social Hour'. Kimpton Margot Sydney also boasts a range of innovative culinary experiences helmed by renowned Australian chef Luke Mangan. Located roughly halfway between spectacular Sydney Harbour and the buzzing Chinatown district, this 172-room hotel will make an excellent base for groups visiting Sydney.
Published: 21 December 2021