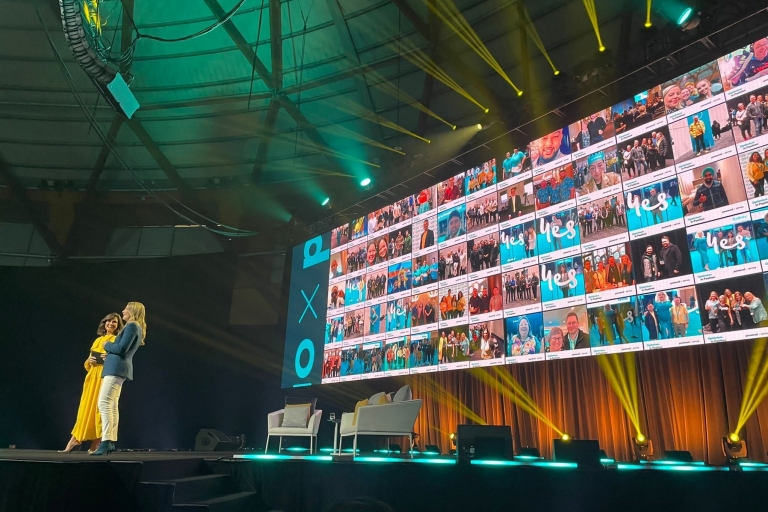 A 90-person crew, 45-page run sheet, 12 cameras and 3,900 attendees.
When it comes to bringing together a large, national company with thousands of employees in the midst of a pandemic, nothing is certain.
But earlier this year, Australian telecommunications company Optus proved despite border closures and changing restrictions, an engaging, whole company event is still possible.
Fast Facts

What: Optus Powered x Live
Where: Six concurrent events around the nation with five face-to-face locations and a virtual audience
When: 5 May, 2021
Who: 3,900 Optus employees
The Optus events team, along with event agency GPJ, set about delivering a COVID-safe event across multiple cities that would bring together both corporate and frontline employees and connect them to the 2022 company strategy, purpose and vision.

The result was a two-hour, live-streamed hybrid event with 2,500 in-person attendees across five locations, including Sydney, Bathurst, Melbourne, Adelaide and Brisbane, and an online audience totalling 1,400 attendees.
Using tech to unite teams
With a 90-person crew, a 45-page show run, 14 presenters, 12 cameras and 58 support staff, the event was a massive production and one that required a seamless experience to be truly effective.

Building on the success of the company's internal Powered x Optus virtual series in 2020, this new hybrid event was also designed to boost morale and recognise each attendee's contribution to the company.
According to Optus director of corporate communications Lana Boardman, the use of one digital platform via dedicated virtual platform by CrowdComms helped connect the two audiences.
"At every touch point we considered the use of technology to bridge the gap between our digital and live audiences," she says.
The format also gave employees the choice of how they wanted to take part in the event.
"The hybrid experience was crafted for both live and digital audiences, giving our people a choice to engage in a COVID-safe setting – how, where and when," says Optus events manager Katie Keys.
Extending the event's life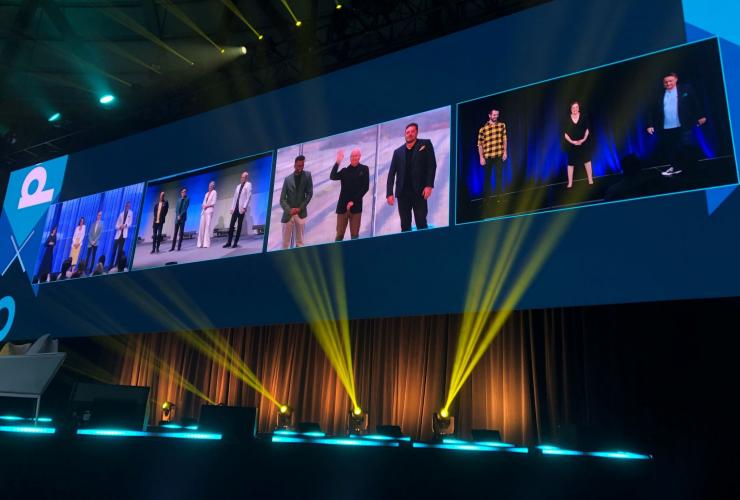 While the event itself ran for just over two hours, the event experience went far beyond the main program.

Pre-event communications included a range of promotions throughout the organisation focused on driving registrations and awareness.
This included branded coffee cups and chocolates around Optus campuses, branded ground stencils and promotions at the weekly company broadcast.
Optus 'chief of optimism' and Australian Formula 1 driver Daniel Ricciardo was engaged to present pre-recorded content and teaser messages that were played before and during the event, as well as being available for attendees on demand.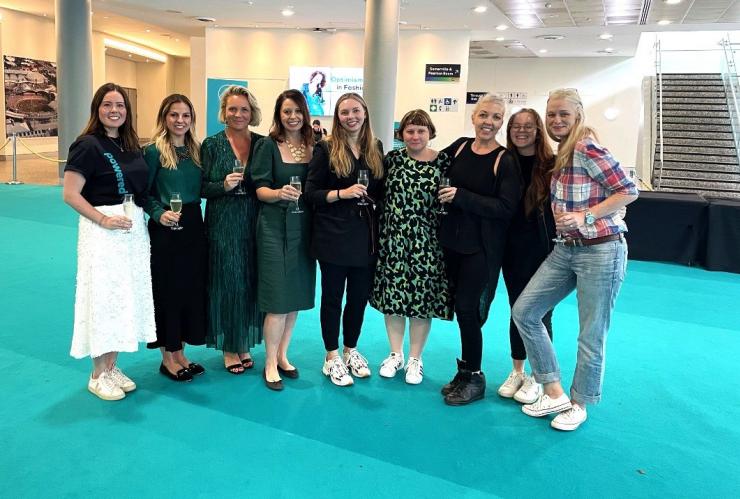 Due to the ever-changing event landscape, the team were forced to regularly adapt and accommodate the relevant COVID restrictions in each state.

"We had originally planned for a travelling roadshow event where our executive leaders visited each state together," explains Boardman and Keys.
"Creating a hybrid model safeguarded the experience of the event, mitigating the risk of our people not being able to play an active role in Powered x Live.
"As an example, we cancelled the in-person experience in Perth days before the event, moving all of WA to virtual seamlessly."
However, live streamed events present challenges of their own, says Boardman, including requiring additional skills to accommodate the different moving parts of such a comprehensive program.
"Essentially, we had seven events on the go at one time comprising each city plus the virtual roll-out," she says.
"Additional skillsets were brought onto the team to ensure no stone was unturned. A supervising executive producer, content producer and technical director were added to the team once we pivoted to a hybrid model."
As interest for the event grew, the team were blown away by people's excitement to get together in person for the first time in two years.
"We received larger than anticipated registration numbers for our Sydney event, so 72 hours out from the event, we scaled up The Dome to accommodate an extra 500 people, sourcing extra coaches, catering, chairs and audio equipment to accommodate the last-minute surge in registrations," explains Boardman.
Risk management and a forward-thinking approach helped the team adapt when necessary.
"We thought ahead and considered implications before acting during the planning stages," says Boardman.
"Thanks to COVID and our extensive experience, we are more agile than ever."
The results
Optus saw outstanding engagement in what was a company-first hybrid event.
Post-event survey results revealed 93 per cent engagement and, on average, online viewers watched the stream for one hour and 57 minutes.
Among the feedback, one attendee said the event was "seriously impressive".
"The live crosses were exceptional, the general flow, the speed and the production were all excellent. Big kudos to the team," they said.
Suppliers and venues
Agency: GPJ
MC: Lisa Wilkinson
Event Platform: CrowdComms
Technical: TDC
Transfers: Murrays