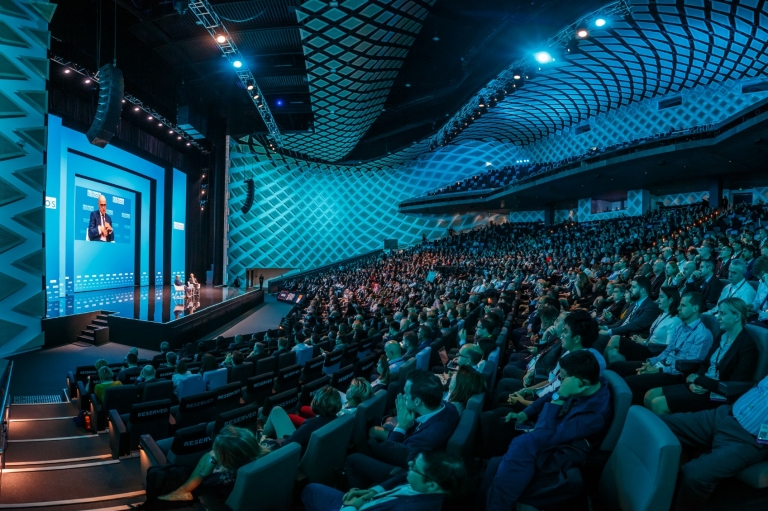 Global growth through impactful meetings.
For Sydney, global meetings that create lasting impacts for an association's membership worldwide, as well as the host city's local community, has been the core goal for years. By hosting Sibos in 2018, organised by SWIFT - the global provider of secure financial messaging services, this goal was well achieved.
Fast Facts

Held 22-25 October 2018 at ICC Sydney
4-day conference, with an additional 75 private meetings
7,600 delegates from 158 countries
180 exhibitors
5,000 sqm open-air Event Deck transformed into a connected garden sanctuary
Over A$40 million in economic impact
Waste diversion rate of 62.5%
150 item donations from event exhibitors to seven local charity organisations
2,564 meals donated to community members in need
1,120 tons of fertiliser produced from organic waste matter

Sibos brings together world leaders in the finance sector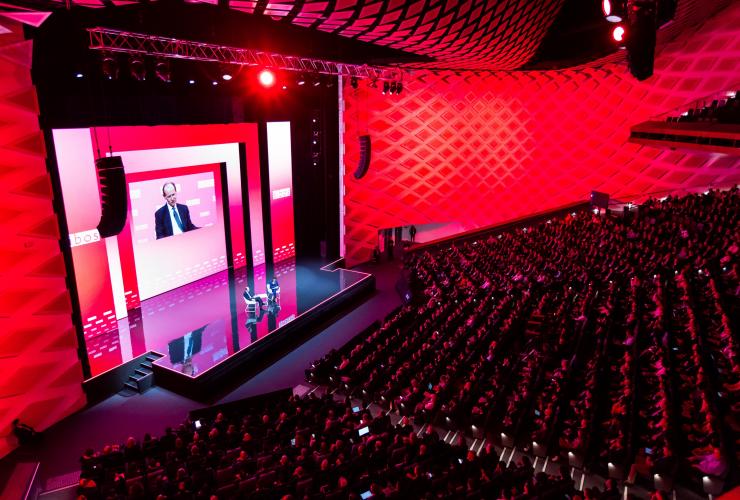 BESydney, the city's convention bureau, has been studying the long-lasting impacts of conferences for, well, a long time now. When they first partnered with the University Technology Sydney (UTS) in 2011 to scientifically validate what they knew anecdotally, they embarked on a journey to systematically study the benefits of business events, which go beyond tourism. At the time, the research project was considered a world-first in its approach and methodology.
In its wake, BESydney and UTS released two publications – Beyond Tourism Benefits: Measuring the Social Legacy of Business Events in 2011 and Conferences: Catalysts for Thriving Economies in 2015 – that show how conferences extend way beyond economic impact thanks to the thousands of delegates who visit Australia.
These two reports help the industry explain how interactions and collaborations that begin during a global meeting are instrumental in developing strong communities open to finding innovative solutions that, ultimately, build a better world. Over the years, Sydney has woven this approach into its bidding philosophy, creating a stronger case for the numerous social, innovation and knowledge benefits of hosting conferences and conventions — with the objectives of its global clients at the centre.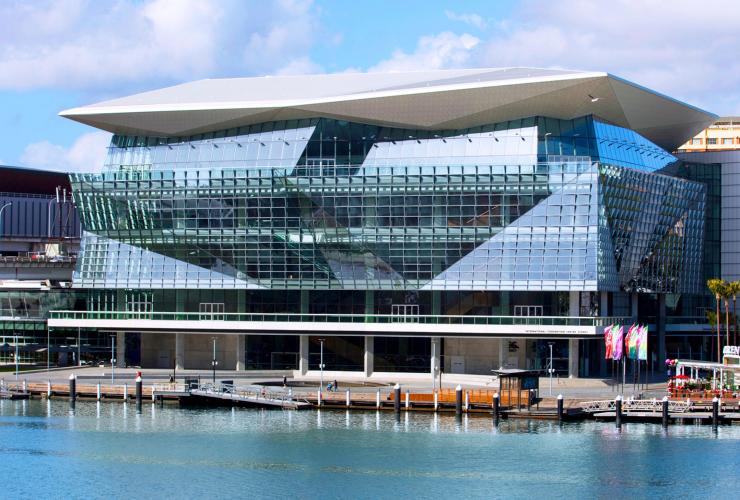 When Sibos took over ICC Sydney in 2018, the main objective throughout the event's organisation was to help SWIFT achieve its goals. Sibos 2018 attracted a global audience of senior decision makers from the banking sector, garnering an attendance of over 7,600 delegates from 158 countries, including the largest representation of Asian financial institutions in the event's history.
As it celebrated its 40th anniversary travelling all over the world, the conference was a major win for Sydney. "Technology has been described as the largest industry on the planet, and in financial services, Australia has proven its capability to produce unique solutions with global application," says Lyn Lewis-Smith (in 2019), CEO of BESydney. "We see global meetings like Sibos as the ideal platform to showcase that talent to the world and to spark new collaborations. Sibos was a great win for us, and a great win for Australia."
During the four-day conference, delegates experienced a dynamic program, which included a trade show with 180 exhibitors, custom-built stands, interactive zones and live activations. Both the convention and exhibition centres were exclusively activated for the duration of the event, while an additional 75 private meetings ran concurrently to the official program in a range of ICC Sydney's flexible spaces.
ICC Sydney, together with the event organisers, also had to get creative to make use of everything the facility could offer. Pop-up and multi-purpose locations were created for delegates to enjoy in between sessions, taking full advantage of the venue's waterside location and natural light. One highlight included the transformation of the 5,000-sqm, open-air Event Deck into a connected garden sanctuary – the ultimate place to rest and reflect on sessions from the industry's top experts, complete with early morning Tai Chi classes.
Creating impact
With Corporate Social Responsibility (CSR) deeply embedded in ICC Sydney's culture and business model, the aim was to make sure the venue created the maximum economic – as well as community – impact.
Chantal Van Es, Head of Sibos, says: "ICC Sydney helped us every step of the way, from the very moment it was announced Sibos 2018 would take place in the city. We worked closely with ICC Sydney's CSR team to develop multi-faceted initiatives that helped us meet our ambitious social, environmental and economic goals, focusing on everything from recycling to community engagement."
Echoing Chantal's comment, ICC Sydney CEO Geoff Donaghy explains: "The program focused on reducing the ecological footprint of Sibos at all stages of event delivery, as well as supporting community engagement. This included organic waste and recycling processing initiatives, minimisation of plastic water bottle consumption, excess food donations and the establishment of the first ICC Sydney Charity Market Day. Here, event exhibitors collectively donated 150 items to seven local charity organisations to be repurposed for their communities, from artificial turf to umbrellas and potted plants."
In a record result for an event of its size and scale, a waste diversion rate of 62.5% was achieved, including 88% of materials being diverted from landfills during the event bump out and the reduction of 15,200 plastic water bottles. ICC Sydney's partnership with OzHarvest and Matthew Talbot Hostel also helped save 855 kilograms of food, equivalent to 2,564 meals that were donated to community members and 1,120 tons of fertiliser produced from organic waste matter.
"We're committed to reducing the event's environmental footprint and contributing positively to the local communities who welcome us so warmly each year," Van Es adds. In that regard, the opportunity for ICC Sydney was to create a new paradigm in the way that venues like them operate and to deliver the maximum community impact by ensuring the flow of benefits from events reaches a broad cross section of the community. This includes connections with universities, the Sydney startup community, local artists and performers, and First Nations businesses.
Sibos created opportunities for collaboration and networking between local and international businesses, academics and disruptors. "While our 2014 estimates of the event's impact were for a A$38 million direct expenditure into the state economy, all these intangible business and knowledge economy benefits take this impact beyond tourism dollars to well in excess of A$100 million," Lewis-Smith explains. "This is a great example of the role we play in bringing the world to New South Wales to generate opportunities for trade and investment, attracting global talent and delivering a vital soft power platform for New South Wales and Australia."
In this context, Sibos helped raise the international profile of Sydney and the State of New South Wales as a financial centre, home to local innovation and a sophisticated fintech ecosystem. As a result, they foresee a strong pipeline of business, investments, exports and other opportunities that could have very positive outcomes on the economy of not only the city but also the state.
Author: Remi Deve
First published in Boardroom February 2019 edition