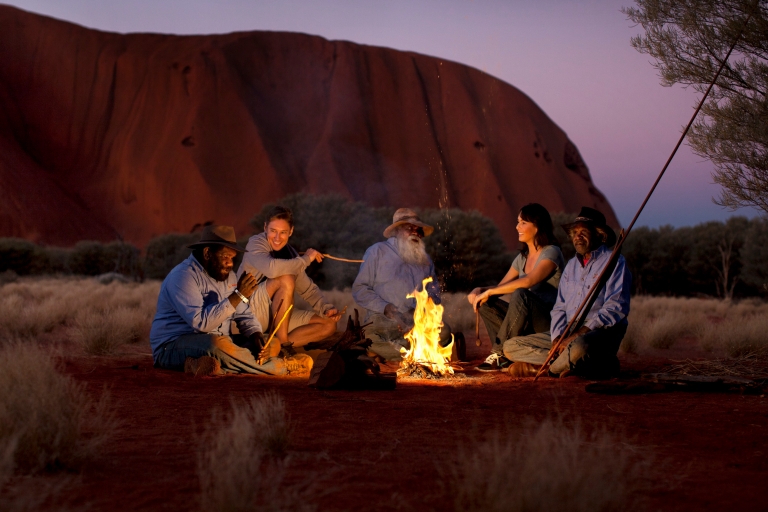 Journey from the Red Centre to Sydney
For the quintessential Australian experience, follow this five-day program. It takes you from the cultural and natural wonders of Uluru in the Red Centre to the harbours, beaches and city highlights of Sydney.
What to know

Five-day program
Explore Uluru and Kata Tjuta in the Red Centre, with a range of tailored activities, before flying south to see the iconic sights of Sydney
Ayers Rock Airport is a 10-minute drive from Ayers Rock Resort, while Sydney Airport is a 15-minute drive from the city centre

Day 1: Travel to the Red Centre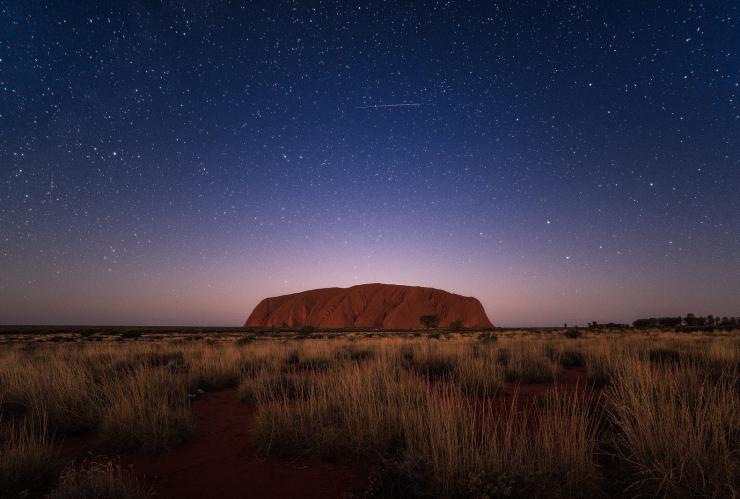 Morning
Your outback adventure begins when you fly over the desert, landing at Ayers Rock Airport in the heart of Australia's Red Centre. Transfer 10-minutes by car to Ayers Rock Resort, 20 kilometres (12.4 miles) from Uluru. The resort offers 700 guest rooms in a range of accommodation, from luxury camping at Longitude 131° to five-star hotel Sails in the Desert.
Afternoon
Enjoy lunch at Ilkari Restaurant at Sails in the Desert, sharing seafood platters and Australian cuisine flavoured with local ingredients. Invite your team to spend the afternoon relaxing by the pool, then surprise your guests with a bespoke souvenir as they're fitted for their own Akubra hat.
Evening
As dusk approaches, join Uluru Camel Tours for the Sunset Camel Experience. This two-and-a-half hour excursion takes you to the top of a sand dune, where you'll watch the colours of Uluru and Kata Tjuta change as the sun dips behind the horizon. Ride back to the camel farm for dinner, starting with drinks and canapés before sitting down to a gourmet barbecue dinner of barramundi, kangaroo and bush seasonings, paired with Australian wine and beer.
Day 2: Aboriginal arts and starlight dinner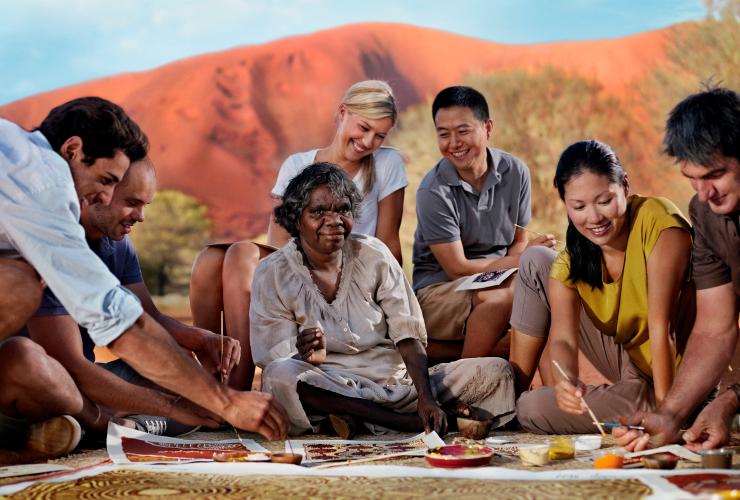 Morning
After you've eaten a buffet breakfast at the hotel, board a coach for the 20-minute drive to Maruku Arts. Guests can participate in a woodcarving workshop, traditional tool demonstration and dot-painting session, before browsing the gallery, where local Indigenous arts and handicrafts are for sale.
Afternoon
Return to the hotel for a relaxed 'fork & walk' lunch on the lawn. Next, it's time for a scenic flight over Uluru and Kata Tjuta with Professional Helicopter Services. This 30‑minute ride offers a spectacular view of these iconic rock formations. Your helicopter will drop you off at the Tali Wiru open-air restaurant.
Evening
Tali Wiru, meaning 'beautiful dune' in the local Anangu language, is a perfect setting for an unforgettable dinner. As the sun sets, you'll begin your evening with sparkling wine and canapés, and a didgeridoo playing in the background. Stroll to the top of the dune for a four-course dinner under the stars, matched with premium Australian wines. After dinner, listen to an Indigenous storyteller share traditional Dreamtime tales.
Day 3: Sunrise at Uluru, then dinner in Sydney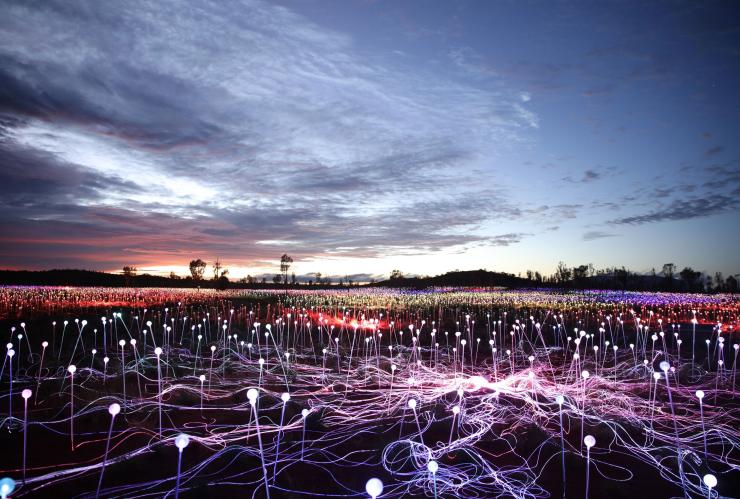 Morning
Awake before dawn for the Sunrise Field of Light show of Bruce Munro's dazzling installation of 50,000 illuminated globes. Eat a bushman's breakfast as day breaks, before a local guide takes you on a walking tour around the base of Uluru, pointing out sacred sites and Aboriginal rock art.
Afternoon
Return to the Ayers Rock Resort for lunch in the Lungkata Room, a glass-walled venue with panoramic views of the desert landscape. After lunch, you'll travel to the airport for the three-hour flight to Sydney. Once you arrive in Sydney, it's a 20-minute drive to the Four Seasons Hotel, which has 531 guest rooms overlooking Sydney Harbour.
Evening
Host dinner at Café Sydney, located on the rooftop of Customs House in Circular Quay with gaspworthy views across Sydney Harbour. This contemporary restaurant can host group bookings for 12 to 40 people, or you can exclusively hire the entire venue for seated events for 140 people and 325 for cocktail functions. Savour a meal of seafood platters and Australian wine, before enjoying a nightcap in the lounge.
Day 4: Tour Taronga Zoo and Sydney Harbour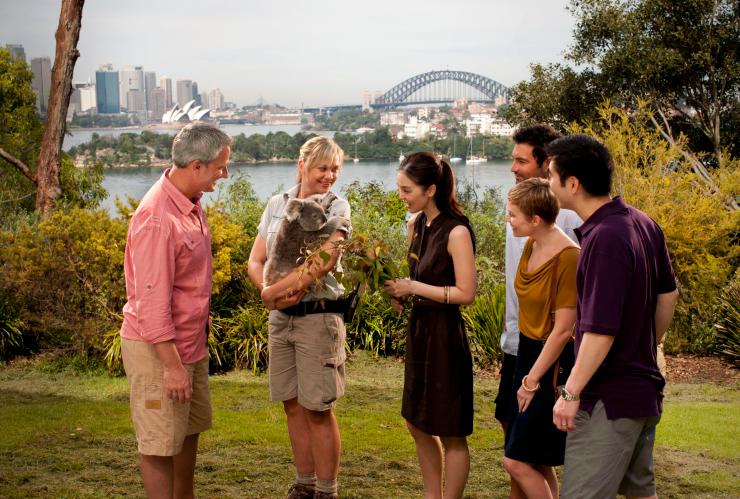 Morning
After breakfast at the Four Seasons, take a five-minute walk to the Commissioners Steps on the edge of Circular Quay. Here, a fleet of VIP Water Taxis awaits to take you on a 15-minute cruise across Sydney Harbour to Taronga Zoo. Meet an expert guide for the Australian Walkabout Tour, where you'll encounter more than 40 Australian animals, including kangaroos, echidnas, wallabies and koalas. This 90-minute experience includes a ride on the Sky Safari cable car, giving you impressive views of the zoo and across Sydney Harbour to the city.
Afternoon
Jump onto the back of a Harley Davidson for a 40-minute ride with Wild Ride Australia, travelling over the Sydney Harbour Bridge and through the Eastern Suburbs to Watsons Bay. Here, you'll enjoy a seafood lunch overlooking the water at Doyles on the Beach. Then, take to the water on an EastSail chartered yacht, cruising to Rushcutters Bay. EastSail can arrange activities, including treasure hunts and sailing regattas, for groups of six to 2,000 people. From Rushcutters Bay, you'll take transfer 10‑minutes by car to the Sydney Opera House for a private backstage tour.
Evening
A five-minute walk from your hotel will bring you to Saké restaurant in The Rocks. Choose from a range of sophisticated private dining rooms, accommodating eight to 64 people for seated events or up to 120 for cocktail functions. For an interactive dining experience, arrange a sushi masterclass with sake pairings.
Day 5: Climb the Sydney Harbour Bridge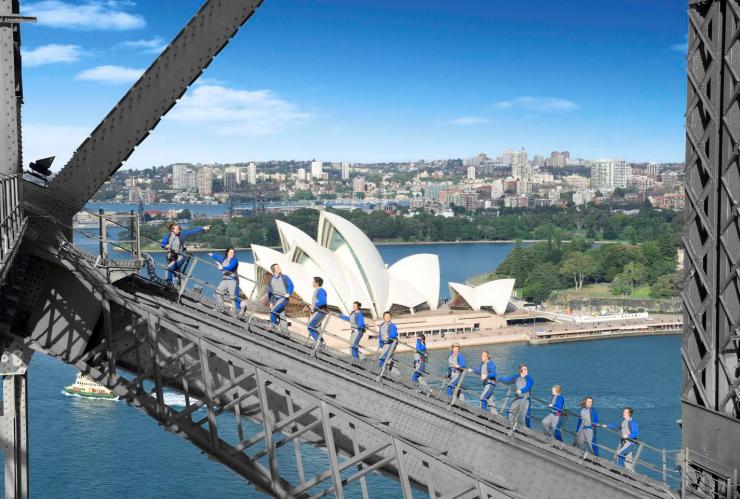 Morning
For a bird's-eye view of Sydney, take BridgeClimb's Summit Express. In just over two hours, you'll climb to the summit of the Sydney Harbour Bridge, where you'll be treated to an exclusive morning tea. Don't forget to pause for your team photo at the top.
Afternoon
Once you're back on the ground, it's a three-minute walk to The Australian Heritage Hotel, one of the oldest bars in Australia. After enjoying one of the 100 Australian craft beers on offer, take a one-hour guided stroll through this historic neighbourhood with The Rocks Walking Tours.
Evening
For your final night in Sydney, host a gala dinner at Doltone House Jones Bay Wharf. Located on a heritage-listed wharf overlooking Sydney Harbour, this flexible venue offers a range of spaces and can cater for up to 1,000 people. Throw a cocktail party for 120 guests in the New York–style Soho room, or host a banquet for 350 on the South Pier.