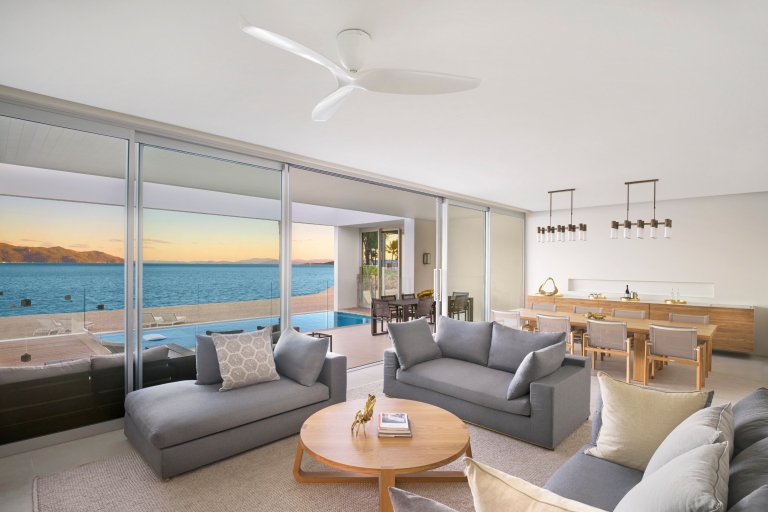 Whitsundays Accommodation
Offering more than 6,000 rooms across Airlie Beach and the islands, The Whitsundays region features international hotels, apartments and luxury resorts.
Most of the Whitsunday Islands are uninhabited national parks, but four islands – Hayman Island, Hamilton Island, Daydream Island and Long Island – offer a variety of accommodation for business events groups.
Accommodation on Hamilton Island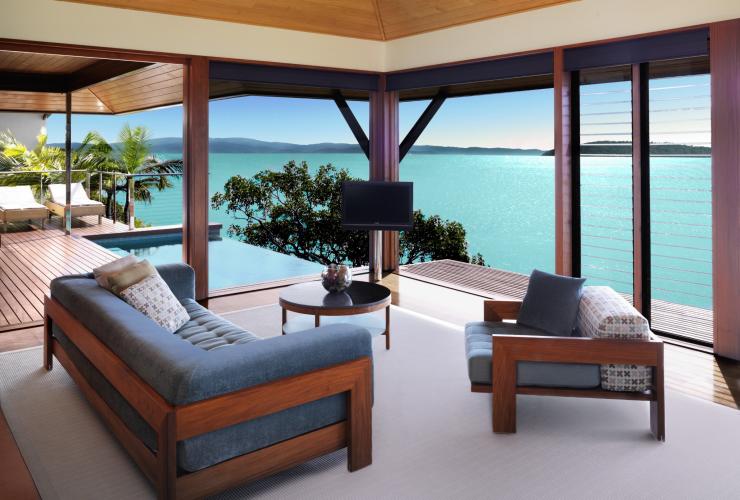 Rooms with views of the Coral Sea
Many of Hamilton Island's accommodation suites look out to the ocean, however the Reef View Hotel - as the name states - is particularly notable. The Reef View Hotel features 363 luxurious rooms and suites with uninterrupted views of the Coral Sea or views of landscaped tropical gardens. Facilities include an onsite restaurant, a 24-hour reception and concierge.
Beach Club Hotel Hamilton Island is a tranquil boutique hotel that sits right on the ocean's edge. Adult's only, the hotel is an oasis that will offer guests a comfortable experience for business events. The hotel features 57 suites each with a private terrace or balcony overlooking the ocean. Amenities and facilities include an onsite restaurant with secluded beachfront dining, private club lounge business centre, VIP chauffeur service around the island, airport and marina, and a 24-hour reception.
For groups looking for luxury serviced villas, the Hamilton Island Yacht Club Villas is an excellent choice. The villas are located on the waterfront overlooking the island's marina and just a short stroll from the Yacht Club, which can be used as a venue for events. There are 17 villas in total, each fitted with a state-of-the-art gourmet kitchen and come with complimentary use of a four-seater golf buggy.
Sitting on the most northern point of Hamilton Island, qualia is uniquely private, surrounded by lush forest. The luxury resort offers 60 ocean-facing pavilions boasting postcard views from every angle. Facilities include two onsite restaurants, 24-hour chauffeur service, onsite conference and meeting rooms and a business lounge.
Accommodation further afield
Nearby island resorts
Nestled at the northernmost point of the Whitsundays, Hayman Island is an exclusive resort island home to the luxury InterContinental Hayman Island Resort. The resort completed a significant redevelopment in July 2019 and now features 168 suites all with private terraces or balconies and five restaurants. Hayman Island is a short 15-minute helicopter ride or 55-minute boat cruise from Hamilton Island Airport.
For larger groups looking for a secluded resort atmosphere, Daydream Island Resort is a popular destination. Following an extensive redevelopment in 2019, the island resort features 277 suites overlooking the blue waters of the Whitsundays and six restaurants and bars that can be booked exclusively for events. Facilities also include a 24-hour reception and business facilities.
Other Whitsundays Quick Guides