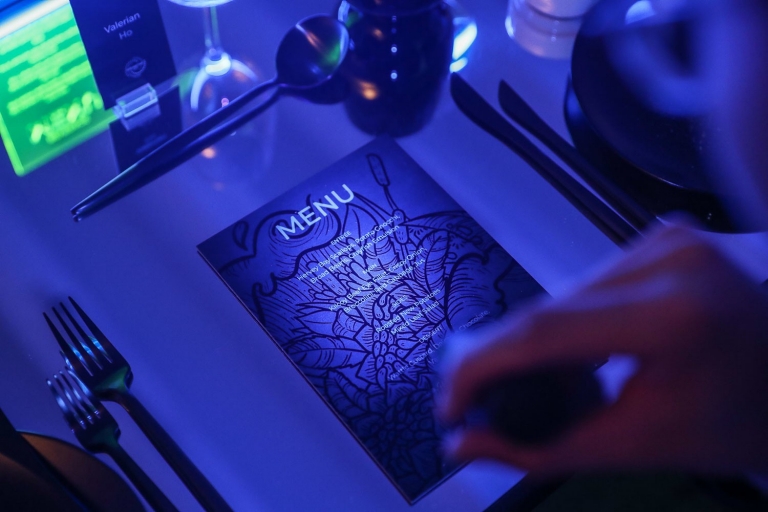 6 Clever Styling Touches to Inspire Your Next Event
From personalised welcome notes in guests' native language to complimentary thongs/flip flops/ jandals at a seaside event, these creative styling ideas from Australia's event planners are sure to inspire a future business event in Australia.
Tropical leaf place settings to complement the destination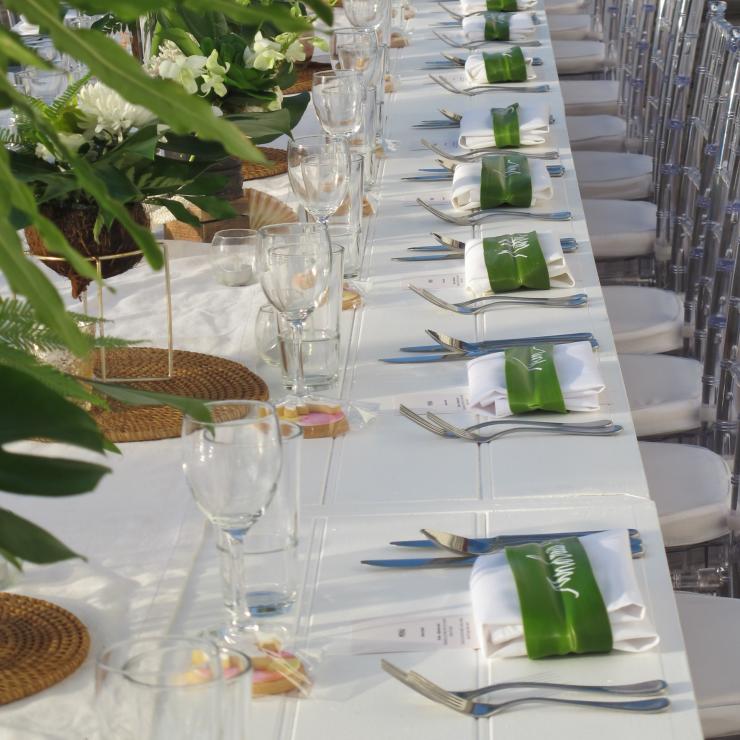 Styling an event to complement the destination is a subtle but clever way to immerse guests in the local environment. The talented team at Two Tribes Events in Cairns, who manage all their own styling and floristry, are experts at bringing a touch of Tropical North Queensland to their events. One signature styling trick involves the use of tropical leaves as place settings. Deb Kinsella, Creative Director & Event Stylist from Two Tribes, hand writes the place names in white calligraphy and wraps the fresh leaf place names around a natural rattan round placemat or a glass charger plate.

---

"I love the fact that the guests get a wonderful surprise seeing their names handwritten on a fresh tropical leaf. It's a unique touch which completes the tablescape and is quintessential to our beautiful tropical environs."

---
Personalised letter boxes with a gift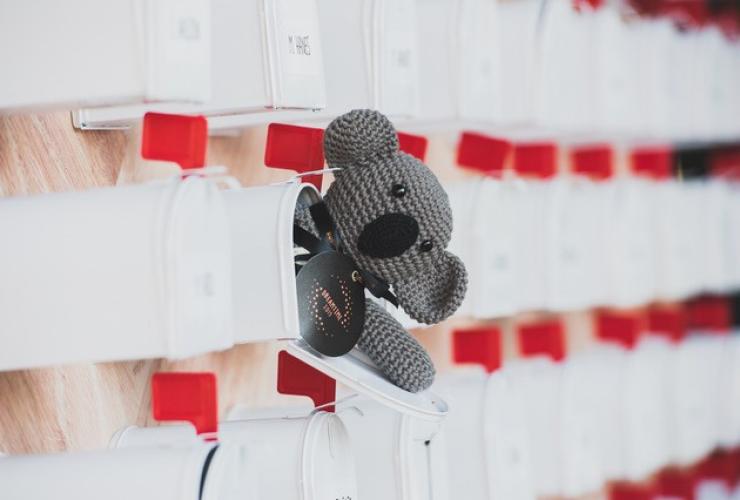 The team at Sydney-based Belle Laide Events pride themselves on devising ingenious ways for an event to embody its theme. At Dreamtime 2015 in Adelaide – Tourism Australia's signature biennial incentive showcase – they took the 'Welcome to our home' theme to the next level with a unique letterbox 'welcome wall' at the Showcase Dinner at the National Wine Centre. International guests were delighted as they opened their very own letterbox on arrival, which contained a personalised welcome note in their native language. For Belle Laide's Director, Mark Taylor, it was the hand-crocheted mini koalas that were secretly slipped into the letterboxes while the guests were enjoying dinner that completed the concept.

---

"They acted as a farewell gift - it was a nice way to round out the experience, and to wrap up an evening of warm South Australian hospitality."

---
Complimentary thongs for a beachside event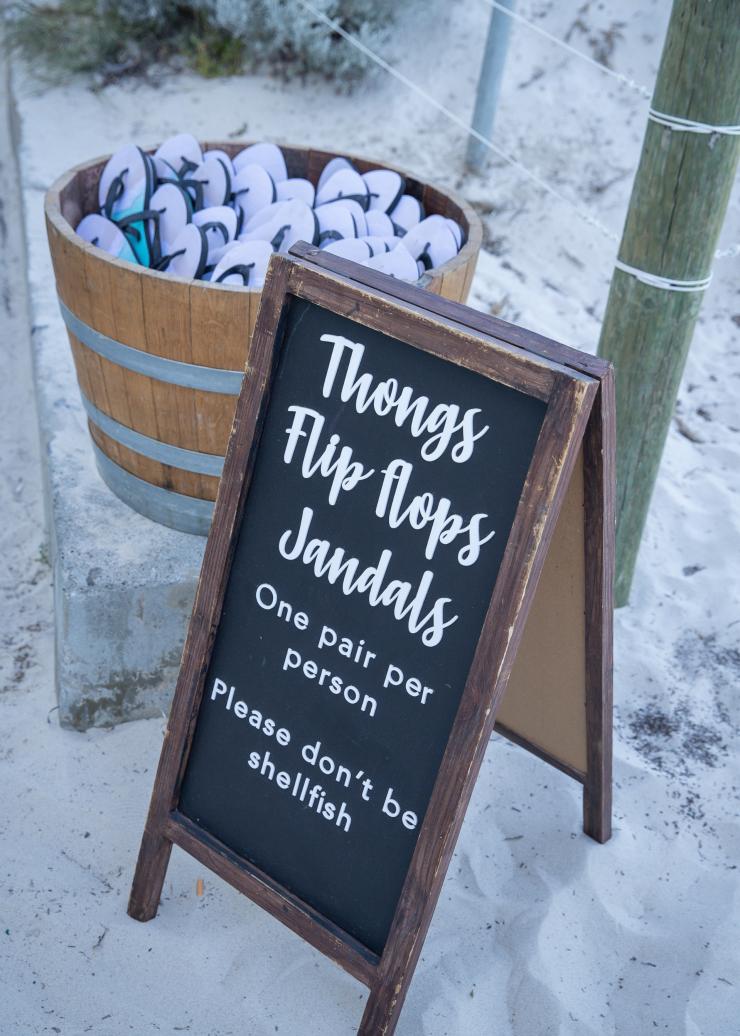 Beachside events are customary in the coastal city of Perth, so breezy oceanfront venue Coast Port Beach was the ideal venue for the Dreamtime Breakfast event hosted by Business Events Perth in December 2019. As a nod to the location, creative local event planners The Event Mill provided a special seaside-themed gift for guests - as they arrived, they were invited to kick off their high heels or business shoes and swap them for their very own pair of thongs. According to Event Manager Celine Bobe, it encapsulated the laidback lifestyle of Western Australia's capital city, and the three different ways of writing the word 'thongs' was a friendly gesture to the international guests in attendance.

---

"The guests were delighted to receive the extra attention… it showed them that we went the extra mile, so they could have the best time possible."

---
Invisible ink menus with ultraviolet torches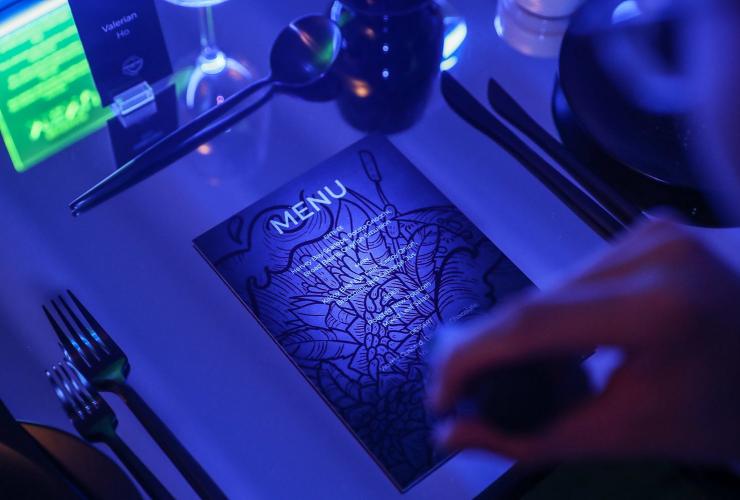 Dreamtime 2017's overarching premise was to highlight its host city, Brisbane, as an emerging tech hub. To symbolise this, Belle Laide Events created special illuminated menus for the final dinner at the Queensland Art Gallery | Gallery of Modern Art (QAGOMA). As guests sat down at the elegantly set tables, there was a black piece of card at each place setting. Guests soon figured out that the accompanying UV torch was to be shone onto the card, revealing the evening's menu. "The UV torches were a theatrical piece that tied into the event theme, to show that there's more than meets the eye when it comes to the city and experiences in Brisbane," said Belle Laide's Director, Mark Taylor.

---

"It was about creating opportunities hidden in plain sight. Plus, at Belle Laide Events, we are always looking for our surprise and delight moment, and this was it."

---
Tall faoliage to create height under soaring ceiling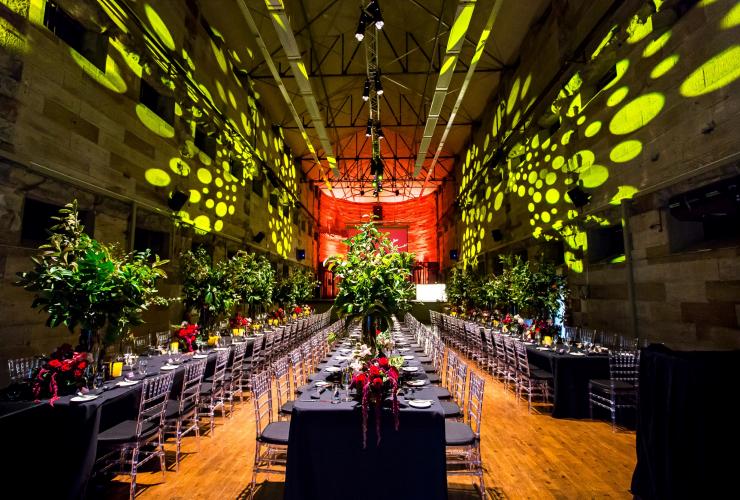 When working with a venue that has high ceilings, it can be tough to make table settings stand out. Luckily, the team at Funktionality Events and Experiences have a trick up their sleeve – the use of tall foliage. Tracy Wood, Funktionality's Director, affirmed that using height on the tables is a great way to balance out long table settings, especially in rooms with soaring ceilings. "The use of tall foliage allows us to create height, and using natural elements and greenery is easy on the eye and creates an inviting atmosphere." As for the type of foliage, it's a seasonal thing.

---

"We like to leave it up to our florist to ensure we always get the best quality and variety that is in season at the time. Foliage is more cost effective and durable than florals, so it's great for events during the warmer seasons or that span for more than one day."

---
Warm tones to match surrounding terracotta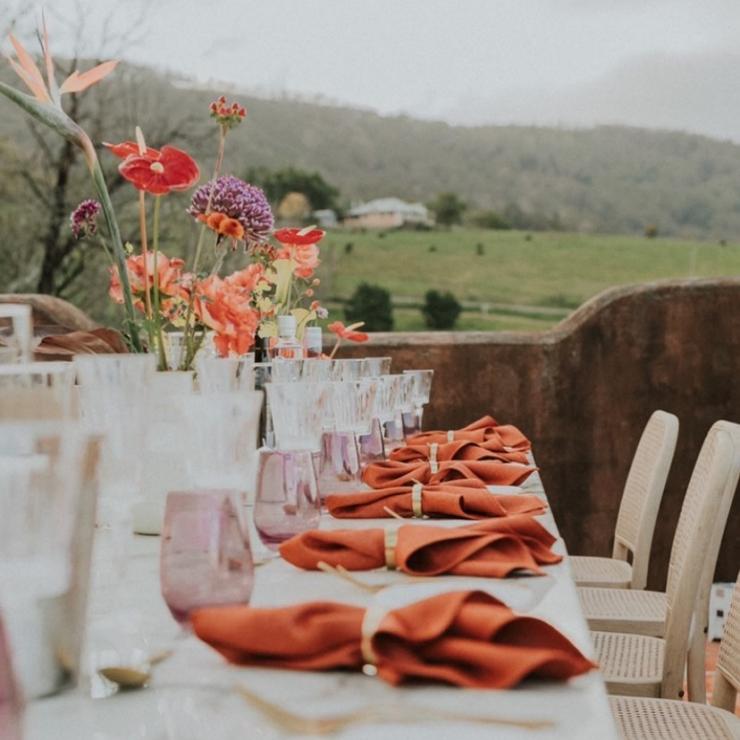 Creating table settings that blend with a venue's architecture is a subtle salute that makes a big impact. If you ask the experts at Harry the Hirer, it's these small touches that make an event shine. The team nailed this brief with a rooftop event at the sprawling Ser Infinito Estate in regional New South Wales, where their careful selection of natural fibres and furniture enhanced the spectacular setting. According to Senior Creative Stylist, Tristan Coumbe.

---

"We brought in the warm, terracotta tones of the rooftop using linen from our Weave range and Natural Harrison Chair set against the valley beyond."

---