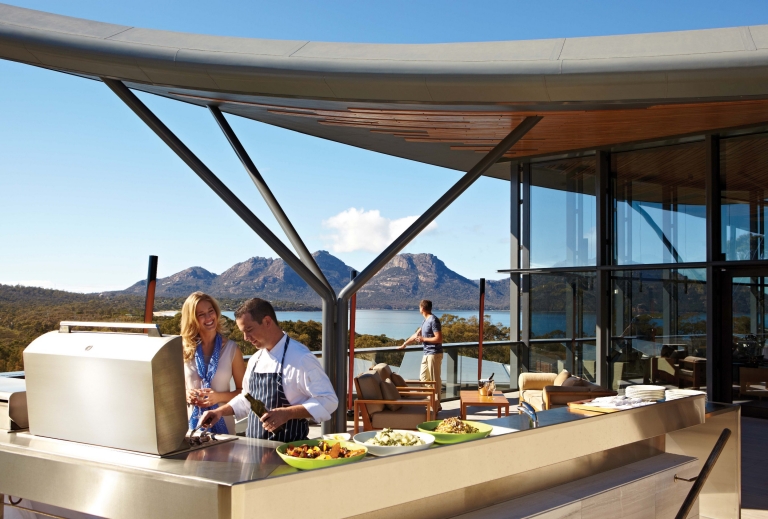 Tasmania's food, wine and culture hub
Known for its historic sandstone buildings, eclectic art museum, natural beauty and dynamic dining scene, Hobart is a compact city in close proximity to some of Australia's best wine regions and natural attractions. Create a rewarding incentive program with this three-day itinerary.
What to know

Three-day program
Visit Hobart and the Freycinet Peninsula
Hobart Airport is in Cambridge, a 20-minute drive from the city centre

Day 1: Explore the Freycinet Peninsula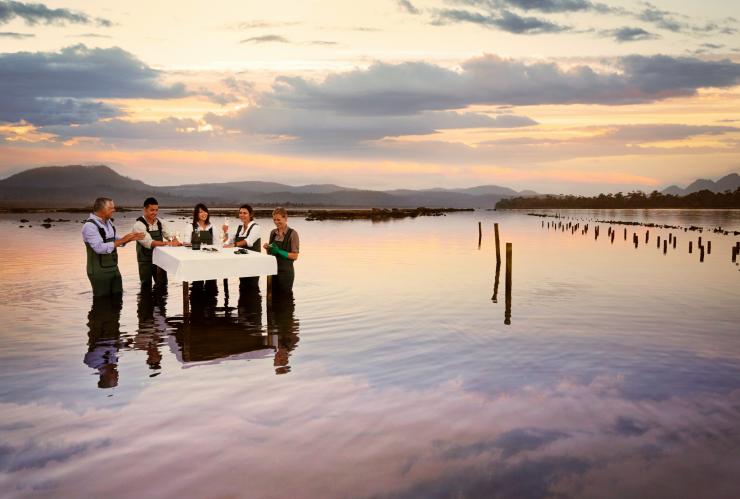 Morning
Begin your tour of Tasmania in the capital city of Hobart. Enjoy breakfast at Jam Packed cafe, located in the historic IXL Jam factory on Hobart's picturesque waterfront and can accommodate up to 100 people. After breakfast, travel 30 minutes by helicopter to Saffire Freycinet, a luxury resort at Coles Bay to the north of Hobart. During your trip, you'll fly over Freycinet National Park, one of the oldest parks in Tasmania. Park highlights include The Hazards, a mountain range with pink granite peaks, and Wineglass Bay, considered one of the best beaches in the world.
Afternoon
While Saffire's chefs prepare lunch on the beach, wade into the waters of the Freycinet Marine Oyster Farm, where an oyster farmer will pick and shuck oysters for you to eat. After lunch, travel on Saffire's purpose-built vessel around Schouten Island, part of the Freycinet National Park. Take in the coastal scenery of cliffs and sheltered bays, and keep an eye out for wildlife including Australian fur seals. Other local experiences include winery tours, kayaking trips through the local wetlands, and pampering treatments at Spa Saffire.
Evening
As night falls, gather on the terrace for canapés and pre‑dinner drinks, or host a cocktail masterclass in The Lounge. Conclude the day with dinner at Saffire's Palate restaurant, which has picturesque views of The Hazards. The menu changes daily, featuring fresh, local produce sourced from the hotel's kitchen garden and surrounding farms and waterways.
Day 2: Experience wildlife, art and fine wine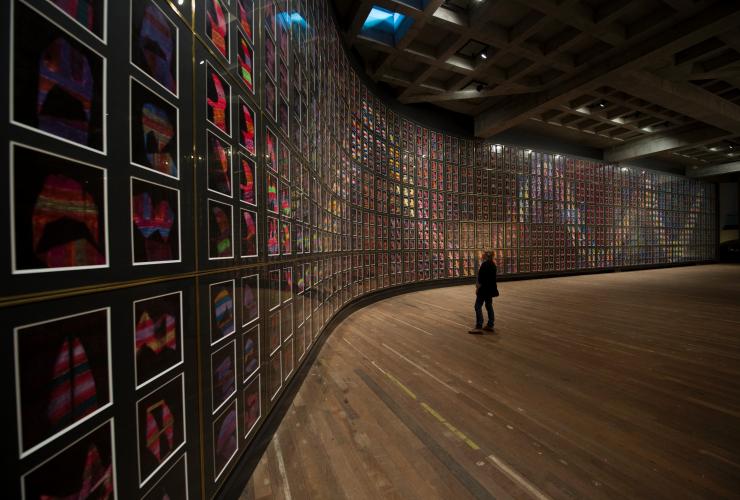 Morning
After breakfast at the hotel, climb into a sports car for the two-and-a-half-hour drive back to Hobart. Stop off at Bonorong Wildlife Sanctuary, just north of Hobart, where you'll have the chance to feed the iconic Tasmanian devil, the world's largest surviving carnivorous marsupial. Continue by car to the Museum of Old and New Art (Mona), a multipurpose venue that includes a winery, brewery, library, museum, restaurant and bars. Begin your visit with a behind-the-scenes winery tour and tailored tasting at Moorilla Estate.
Afternoon
Follow your wine tasting with lunch at the museum's award-winning restaurant The Source, which boasts views over the Derwent River and a menu of locally sourced ingredients. After lunch, spend the afternoon exploring Mona's privately funded contemporary art museum. Mona houses a range of artworks, including Snake by one of Australia's most significant modernist artists, Sidney Nolan. The mural, made up of 1,620 individual paintings – it's 46 metres (151 feet) long and 9 metres (30 feet) wide – is the artist's largest work. When you're finished exploring, depart for Hobart by water on Mona Roma, the museum's dedicated fast ferry.
Evening
Dinner will be at Frogmore Creek Winery, a 20-minute drive from the centre of Hobart. Enjoy a private tasting of the estate's cool-climate wines at the cellar door before sitting down to dinner in one of three venues. The Tower Gallery can hold 22 people for seated dinners, the Restaurant can accommodate up to 45, and the Barrel Room can host 160 people for a banquet or up to 300 for a cocktail function.
Day 3: Catch fresh seafood and tour whisky distilleries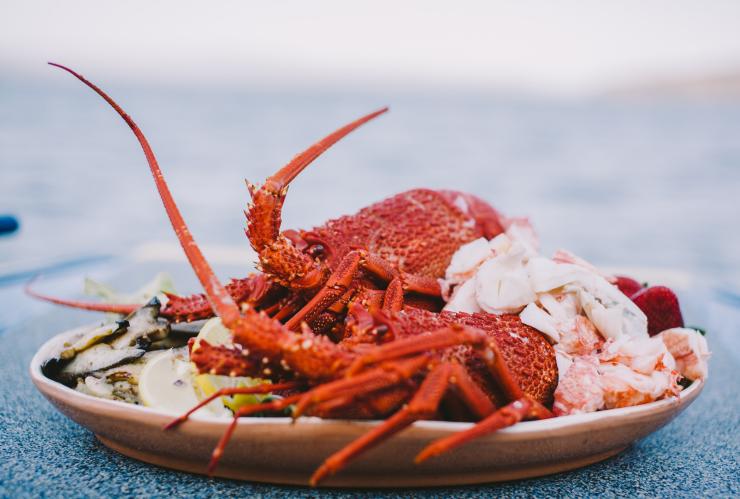 Morning
Begin with breakfast at Henry Jones Art Hotel, located on the edge of Hobart's waterfront in a sandstone warehouse that dates back to the 1820s. Next, you'll take the award-winning Seafood Seduction tour with Pennicott Wilderness Journeys, travelling by boat from the harbour to the waters of the D'Entrecasteaux Channel, which surrounds Bruny Island. Onboard highlights include seafood straight from the source, such as sashimi from Tassal Salmon Farm; freshly shucked oysters with Tasmanian sparkling wine; and lunch featuring abalone, sea urchin and crayfish collected from the water by your guide.
Afternoon
After returning to Hobart's Constitution Dock, spend the afternoon at Lark Distillery in the heart of the city, where you'll have the opportunity to develop your knowledge and appreciation of whisky. Tasmania's cool climate, clean water and quality produce are ideal for making fine whisky, and the state is now home to the largest concentration of distilleries in Australia. Sullivans Cove Whisky, previously awarded the world's best single-malt at the World Whiskies Awards, offers tours and tastings for groups of up to 10 at its distillery in Cambridge, a 15 minute drive from Hobart.
Evening
After you've tasted some of the state's finest single malts, a 30-minutes ride by car will take you to Willie Smith's Apple Shed in the Huon Valley, south of Hobart. This rustic venue was originally a 1940s packing shed and can hold up to 100 people for a seated dinner or 200 for a cocktail function. During summer, larger groups can be accommodated in the outdoor area. Enjoy a relaxed menu crafted from southern Tasmanian ingredients, paired with Willy Smith's ciders.