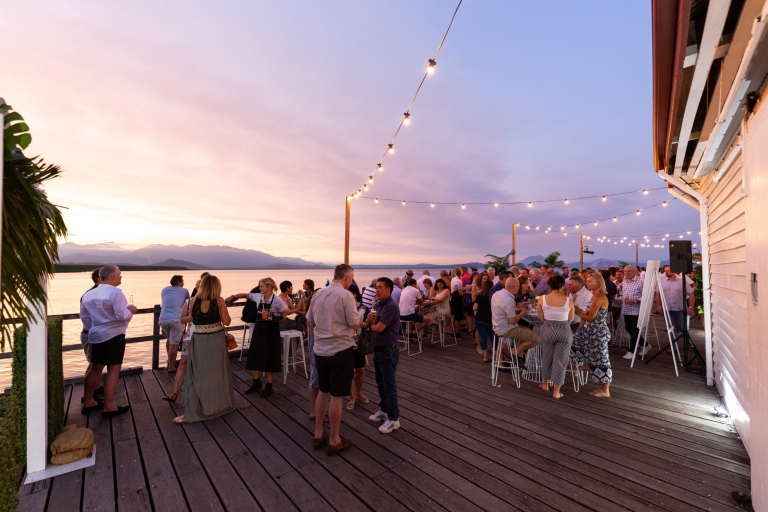 11 SENSATIONAL OUTDOOR SPACES FOR A FUTURE BUSINESS EVENT IN AUSTRALIA
With spectacular scenery and a climate conducive to outdoor events, Australia's backyard makes the ultimate business events venue. We've rounded up a few open-air venue options to consider for a future business event, al fresco-style.
1. The Enclave at Crown Perth
Perth, Western Australia
Capacity: 200 (cocktail only)

Nestled by the infinity pool at Crown Towers in Perth, The Enclave is sure to bring the wow-factor to your next outdoor event. Overlooking the Perth city skyline and Swan River, this space features six stylish cabanas, a fully equipped cocktail bar, service kitchen and an all-weather undercover area. Getting home afterwards is easy, too, with a combined 1,200 guest rooms on offer within five minutes' walk at Crown Towers, Crown Metropol and Crown Promenade.
2. The Sugar Wharf
Port Douglas, Queensland
Capacity: 120 (cocktail)

The deck of the Heritage-listed Sugar Wharf in Port Douglas offers a picturesque setting for an outdoor event on a balmy Queensland evening. Overlooking the Coral Sea, this historic building was formerly used to store sugar and cargo before being transformed into a shipwreck museum. Now a blank canvas available for exclusive event hire, delegates can sip cocktails and enjoy local tropical produce as they watch the sun dip behind the mountains of the Daintree Rainforest.
3. Sounds of Silence
Uluru, Northern Territory
Capacity: 300 (seated only)
For groups of up to 300, Voyages Indigenous Tourism Australia's Sounds of Silence dinner can be booked exclusively and offers a taste of the outback with views of the iconic rock formation Uluru in Australia's Red Centre. Delegates can drink in the sunset whilst enjoying gourmet canapes to the sounds of a didgeridoo, then indulge in a bush tucker-inspired feast under the stars. Dinner can also be combined with the spectacular Field of Light art installation for the ultimate outdoor event. Afterwards, a spot of stargazing and Aboriginal storytelling completes this incredible experience.
4. ICC Event Deck
Sydney, New South Wales
Capacity: 5,000 (cocktail only)

Boasting 5,000 sq metres (53, 820 sq ft) of open-air event space, the Event Deck at ICC Sydney suits large-scale outdoor events. Overlooking the famous Darling Harbour, this colossal outdoor venue offers a large lounge and bar area and spectacular views of the city skyline. An extension of the upper exhibition halls, the Event Deck can play host to a range of setups including large marquee facilities, event installations, and even pop-up swimming pools that are perfect for a warm summer's day.
5. Hayman Island
Whitsundays, Queensland
Capacity: 300 (cocktail or seated)
A slice of tropical paradise awaits at Hayman Island in the Whitsundays, but it's not just about basking by the pool on this private Queensland island. Nine different outdoor spaces are available for exclusive hire, from the intimate rainforest grove to suit small groups of up to 60 guests to the expansive sandy shores of Hayman Beach which can host up to 300 delegates.
6. The Timber Yard
Melbourne, Victoria
Capacity: 1,500 (cocktail), 750 (seated)

Built on a philosophy of recycling and upcycling, The Timber Yard in Port Melbourne is a restored timber storage and fabrication facility that has been transformed into landmark Melbourne event venue. The Yard itself is a 1,000 sq m (10,764 sq ft) turfed area which is ideal for large gatherings. Adjacent is the Woodstore – a long undercover structure which was once a storage and curing area for timber, which adds 400 to the cocktail capacity and 250 for a seated event.
7. Golding Wines
Adelaide Hills, South Australia
Capacity: 500 (cocktail), up to 300 (seated)

Tucked away in the rolling Adelaide Hills, this picturesque winery is the perfect place for a future business event in Adelaide. For an outdoor function, there's a landscaped terrace and a lush oasis of manicured gardens available. The outdoor offering also includes lawn games, a woodfired oven and plenty of wine direct from the producer.
8. Howard Smith Wharves
Brisbane, Queensland
Capacity: Up to 500 (cocktail), 400 (seated)

Tucked underneath Brisbane's Story Bridge, the Howard Smith Wharves were abandoned in the 1960s and have since been transformed into a heritage-listed entertainment, events and lifestyle precinct. The riverfront venue features indoor and outdoor event space, as well as expansive parklands and outdoor areas that can host up to 500 cocktail-style. The precinct is also home to the luxury 166-room Art Series Hotel The Fantauzzo, too, so no transfers are required.
9. In the Hanging Garden
Hobart, Tasmania
Capacity: 600 (cocktail)

This contemporary cultural precinct in central Hobart features two levels of tiered gardens which are ideal for large groups. The venue's function areas include beer gardens, bars and kitchens, but it's the spacious lower lawn that can accommodate up to 600 guests for an al fresco event. Most impressive is the 18-metre-tall cathedral-like structure which shelters the lawn area, providing an all-weather space for a garden gathering.
10. National Arboretum
Canberra, Australian Capital Territory
Capacity: 1,500 (cocktail), 8,000 (seated in the amphitheatre)

For those planning a future business event in Australia's capital city, Canberra, the National Arboretum offers an array of outdoor spaces. The onsite Amphitheatre is a sizeable u-shaped space with tiered grassy flats, bordered by the Events Terrace which can host up to 1,500 guests. The 618-acre (250-hectare) arboretum is also home to 94 individual forests, some of which are available for exclusive hire.
11. Pee Wee's at the Point
Darwin, Northern Territory
Capacity: 450 (cocktail), 400 (seated)

For an outdoor space in Darwin, look no further than the lush lawns of Pee Wee's at the Point. Situated in the tropical surrounds of East Point Nature Reserve, this restaurant specialises in events, starting with its vast expanse of licensed grassy waterfront. With a focus on food that reflects the produce, climate and multiculturalism of the Northern Territory, delegates can enjoy local prawns and wild-caught barramundi as they soak up the sunset with a glass of sparkling wine in hand.
Published: 28 January 2021