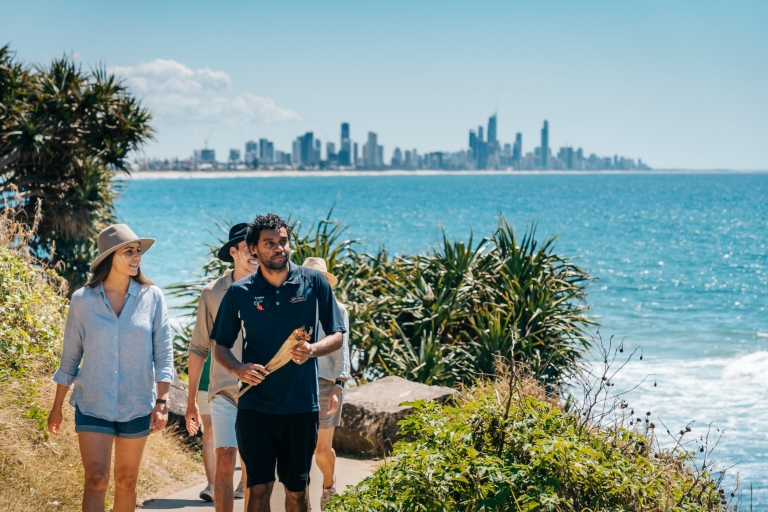 Jellurgal Cultural Tour, Burleigh Heads, Queensland © Tourism and Events Queensland
City-based Aboriginal experiences for groups
Australia's cities are brimming with Aboriginal culture. From guided walking tours of Sydney's historic Rocks district to learning the history of our nation's Aboriginal Parliamentarians at Parliament House in Canberra, these Aboriginal experiences for groups are sure to enrich a future urban incentive program.
'Illi Langi': The Rocks Aboriginal Dreaming Tour, Dreamtime Southern X, Sydney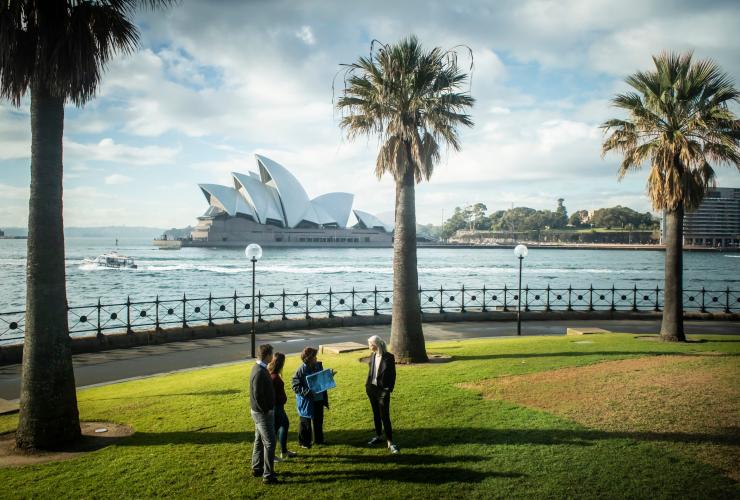 For groups visiting Sydney, an experience with Dunghutti-Jerrinjha Elder Margret Campbell from Dreamtime Southern X offers a captivating insight into Sydney's Aboriginal heritage and culture. Suitable for groups of up to 120 guests, this leisurely 90-minute walking tour begins with an Aboriginal ceremonial greeting then explores the historic Rocks district of Sydney Harbour. In her authentic and friendly style, Margret helps guests to understand the spiritual connection to the region's waterways and foreshores, the Aboriginal history and use of areas like Dawes Point beneath the famous Sydney Harbour Bridge, the origin of ochre colours in the harbour's sandstone rock, and the seasonal flora and fauna of the beautiful Sydney Harbour.
Jellurgal Walkabout, Jellurgal Aboriginal Cultural Centre, Gold Coast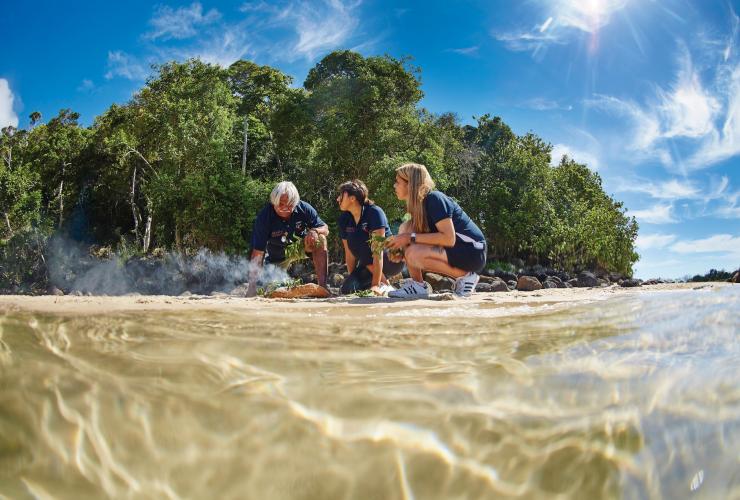 In Queensland, groups of up to 40 guests can experience a taste of Aboriginal culture in the heart of the glittering Gold Coast. Jellurgal Aboriginal Cultural Centre runs the Jellurgal Walkabout tour at Burleigh Heads, which is just a short drive from the famous Surfers Paradise. With the city's skyscrapers visible in the distance, this relaxing walking tour around the 'Dreaming Mountain' of Jellurgal highlights the culturally significant sites that have played an important role in the lives of the local Aboriginal people. After a special ceremony using ochre sourced from the mountain, guests will learn about traditional life, bush tucker, fishing and hunting, as well the Yugambeh speaking peoples' important ecological practices and connection to the land.
'Yeribee': Indigenous Experiences of Parliament House, Canberra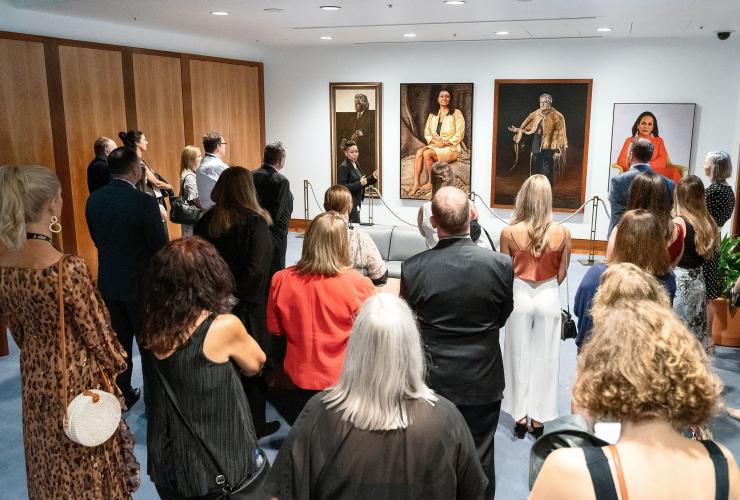 For groups visiting Canberra, a guided tour of Parliament House offers the exciting experience of watching Australia's robust democracy in action. But for something a little different, the 'Yeribee' tour – meaning 'walk' in the local Ngunnawal language – reveals a unique side to Parliament House. Up to 20 guests at one time can learn the stories of Australia's Indigenous parliamentarians, explore the history of the Parliament House site, gain insight into how Australia's First Peoples are participating in Australia's democratic processes, and admire significant artworks from the Parliament House Art Collection by celebrated Indigenous artists. Afterwards, the many halls, alcoves, gardens and rooms of Parliament House provide a range of options for an intimate group dinner or cocktail event.
Artwork credits, L-R
- Wesley Walters (1928–2014) Neville Thomas Bonner AO, 1979, Historic Memorials Collection, Parliament House Art Collection, Canberra ACT
- Jandamarra Cadd (born 1973, Yorta Yorta and Dja Dja Warung people), Nova Maree Peris OAM, 2019, Historic Memorials Collection, Parliament House Art Collection, Canberra ACT
- Mary Moore (born 1957) The Honourable Kenneth George Wyatt AM, 2013, Historic Memorials Collection, Parliament House Art Collection, Canberra ACT
- Jude Rae (born 1956) The Honourable Linda Burney MP, 2018, Historic Memorials Collection, Parliament House Art Collection, Canberra ACT
Aboriginal Heritage Walk, Royal Melbourne Botanic Gardens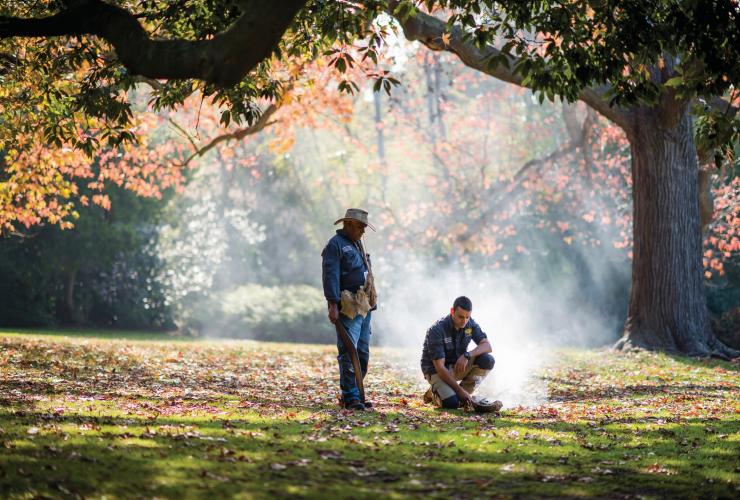 The bustling city of Melbourne is not just about top-notch restaurants, galleries and sporting events; this part of Australia has a deep connection to the people of the Eastern Kulin Nation. Melbourne's Royal Botanic Gardens are a significant cultural site of the Boonwurrung and Woiwurrung peoples, and incentive groups of up to 20 guests at a time can gain an appreciation for their customs and heritage as they take a tour of the gardens with an Aboriginal guide. After discovering the local First Peoples' connection to plants and their traditional uses for food, medicine, tools and ceremonies, guests can reflect on the significance of Australian Aboriginal cultures over a refreshing cup of lemon myrtle tea at the end of this enlightening experience.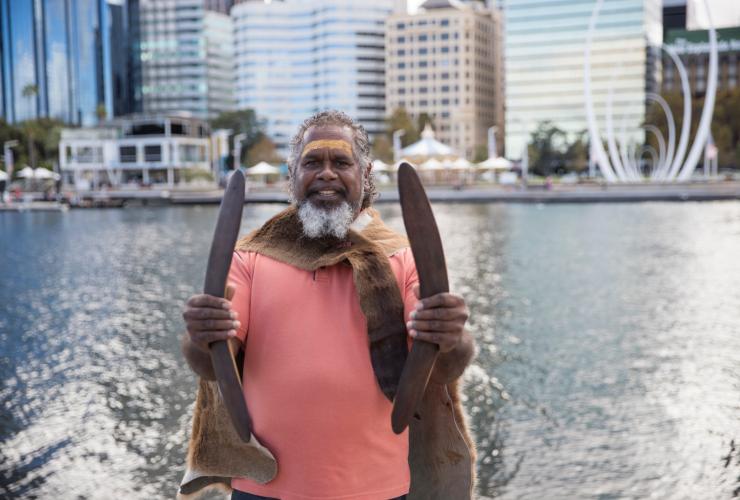 In Western Australia's sunny capital of Perth, husband and wife team Walter and Meg McGuire from Go Cultural Tours are dedicated to sharing and preserving Perth's Aboriginal cultural heritage. Conducting their tours around Perth's iconic city locations, groups of up to 30 guests can discover the ancient Aboriginal history behind the land on which Perth city now stands. Providing a glimpse into the world's oldest living culture through ancient Dreamtime stories, traditional songs and Noongar language, groups can explore Goomup (Elizabeth Quay) or the beautiful native parklands of Karrgatup (Kings Park) and understand the ongoing significance of these areas to Perth's Noongar people.
Tandanya National Aboriginal Cultural Institute, Adelaide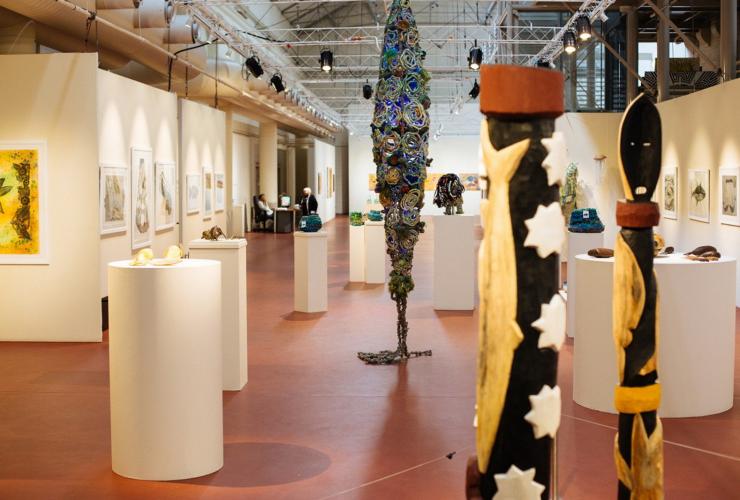 In the heart of South Australia's capital of Adelaide is the Tandanya National Aboriginal Cultural Institute, Australia's oldest Aboriginal-owned and managed multi-arts centre. A Kaurna word meaning 'place of the red kangaroo', Tandanya provides guests with an insight into contemporary and traditional Aboriginal and Torres Strait Islander culture and art. Groups can experience a cultural presentation and yidaki (didgeridoo) performance before perusing the galleries, which play host to a rotating range of Aboriginal art exhibitions each year. Guests can then enjoy drinks and dinner in one of the venue's event spaces; the Main Gallery space suits up to 400 guests banquet-style or 630 cocktail-style, and features lofty ceilings and an array of stunning Aboriginal art.
Seven Seasons Menu, Darwin Convention Centre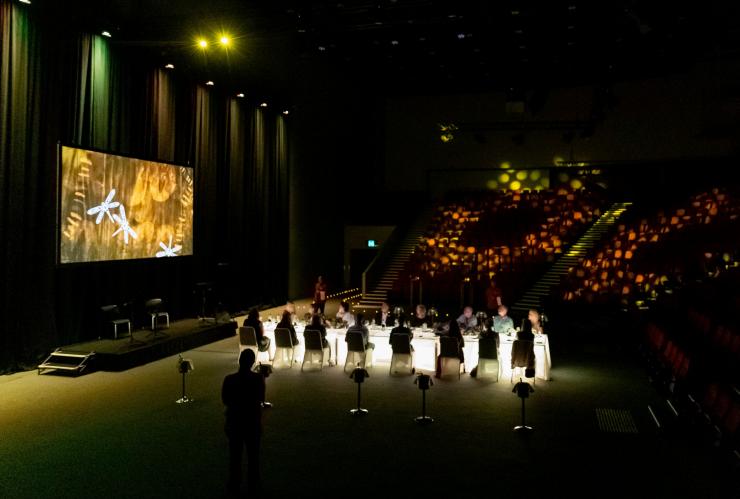 The Northern Territory's city of Darwin is home to the Larrakia people, the Traditional Owners of Darwin's land and surrounding sea. For groups visiting the tropical capital, there are plenty of ways to experience Aboriginal culture in this relaxed urban setting. Designed for groups of up to 42 guests, the Darwin Convention Centre's Seven Seasons Menu is a seven-course culinary journey inspired by the Gulumoerrgin (Larrakia) seasons. For larger groups, an abridged three or four course menu is available. This sensory experience explores the dramatic changes of the tropical seasons through taste, sight and sound, and leave guests with a fuller appreciation of the deep connection the Larrakia people have for the land on which the Darwin Convention Centre stands.
ningina tunapri Gallery, Tasmanian Art Gallery and Museum, Hobart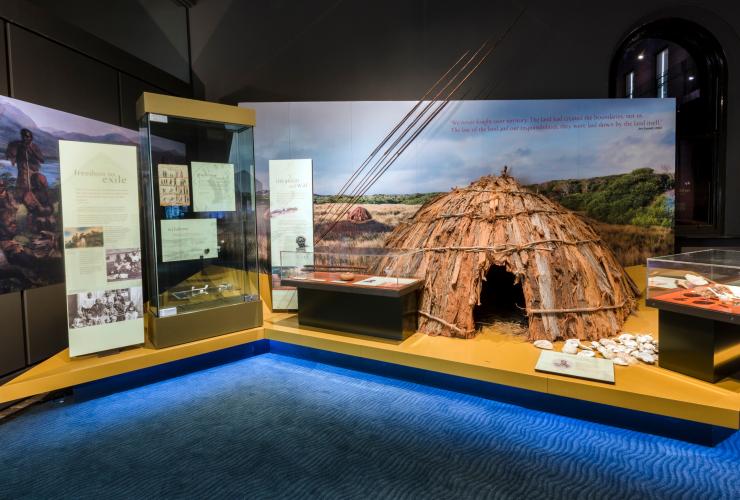 As Tasmania's first port, the city of Hobart is steeped in history, but there's more to this city than its maritime heritage. The Tasmanian Art Gallery and Museum provides guests with an enriching exploration of Tasmanian Aboriginal culture via the newly refreshed ningina tunapri Tasmanian Aboriginal Gallery. Meaning 'to give knowledge and understanding', the permanent ningina tunapri exhibition explores the journey of Tasmanian Aboriginal people and is a celebration of all Tasmanian Aboriginal generations. Groups of up to 160 guests can enjoy a cocktail event in the museum's flagship function space - the Central Gallery - and take turns to break out into groups of up to 20 for a guided tour of the ningina tunapri Gallery.
Published: 10 September 2021