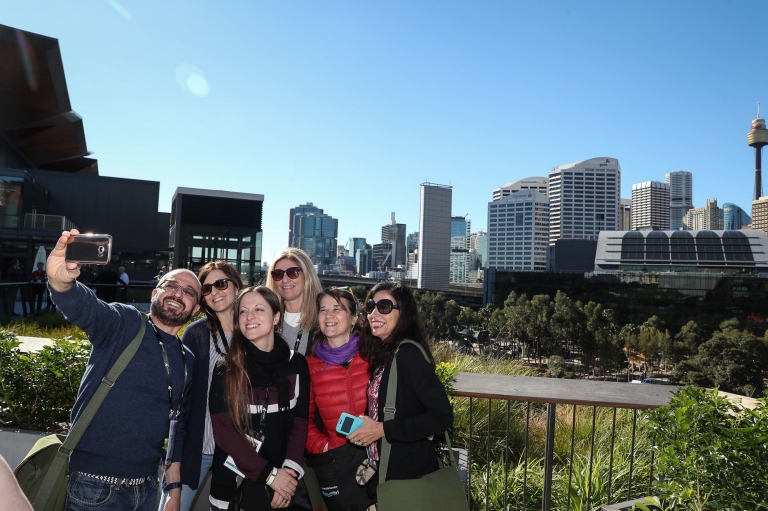 New research on the European market
Tourism Australia partnered with MMGY Travel Intelligence on the first edition of Portrait of European Meeting & Convention Travel. The research surveys both planners and potential delegates from Europe, focusing on issues caused by the pandemic, new COVID variants and Ukraine.
To help inform our approach to rebuild demand from our key markets and support industry in the process, Tourism Australia contributed custom questions to the research, with key finding below.
Outlook on Australia
Meeting planners indicated the top three factors affecting their decision in holding an in-person meeting in Australia were overall cost of holding the event in Australia; destination appeal to attendees; and travel time associated with getting to Australia.
While their top three barriers to holding a meeting and event in Australia were distance (75 per cent), cost of travel (38 per cent), and distance of travel (14 per cent).
The research highlighted that Australia is still seen as a desirable destination with meeting delegates (a key driver for decision making), with 62 per cent of delegates indicating they would likely attend a face-to-face meeting in their sector, if held in Australia between September 2022 to March 2023; this grew to 69 per cent for March 2023 to September 2023; 73 per cent for September 2023 to March 2024; and levelled out to 73 per cent for March 2024 to March 2025.
The top three factors affecting potential meeting delegates from attending an event in Australia in person included government regulations related to COVID-19; 32 per cent said additional time, process and costs of travelling during COVID-19; and 31 per cent indicated heath consideration related to COVID-19.
Key findings from the research
Below is an overview of the key findings from the overall research.
Meeting planners suggest destinations should be more transparent, flexible, and have information ready in the current climate.

Local government and regulatory restrictions are the lead barriers to planning a successful meeting for planners post COVID-19

Expectations on recovery differ by meeting type with professional planners expecting seminars and workshops to recover the fastest, by September 2022, followed by incentive programs by March of 2023. There is more hesitancy for large meetings/ conventions/ conferences and fairs/ exhibitions to return to normal before March 2024.

Despite the reduced face-to-face meetings compared to pre-COVID, in-person meetings will comeback.
80 per cent of planners believe in-person meetings will be preferred post-COVID and 46 per cent of attendees agree

Safety measures aren't the only factor impacting delegate's decisions to attend international meetings. Aside from venue's safety measure, attendees weigh the risks of potential quarantine upon return and arrival, as well as the risk of potentially cancelled flights or closed borders.

A third of meeting planners and delegates are very open to scheduling or attending in-person conferences or conventions despite the rise in cases due to Delta and Omicron variants. One in five planning professionals reevaluated their plans to host in-person meetings within the next six months.
The research
The first wave of Portrait of European Meeting & Convention Travel was conducted by MMGY Travel Intelligence, who surveyed 180 meeting professionals between 21 February and 21 March 2022 and 1,600 potential meeting delegates between 28 March and 11 April 2022.
The research covers meeting professionals predominately based in Germany, UK and Italy; and meeting delegates from the UK, Germany, France and the Netherlands.